Old First Concerts
Heidi Melton, soprano
John Parr, piano

Samuel Barber
Three Songs, Op. 45

Richard Wagner
Wesendonck Lieder

Alban Berg
Sieben Früher Lieder

Richard Strauss
Die Georgine
Ruhe, meine Seele!
Morgen
Frühlingsfeier

Encores:
Kurt Weill
My Ship

Richard Strauss
Zueignung

Old First Church
September 17, 2010 8pm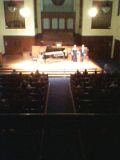 At the beginning of her recital at
Old First Church
, soprano
Heidi Melton
happily told us that she wanted to make this an informal Liederabend & that she could think of no better way to celebrate her birthday. Hearing her gorgeously full, rich voice really is a celebration. The sound in the lower register is wonderfully meaty, & as the evening progressed she gave us ever bigger high notes. At times I thought that she must be audible to people driving by outside. Yet even at its most powerful, her sound is never strained, & it seems that she could give even more.
She &
John Parr
focused on long lines & never rushed any of the tempos. There were some really intense moments. I might have been drooling by the time she ended "Stehe still!" from the
Wesendonck Lieder
. Berg's
Sieben Früher Lieder
are favorites of hers, & she rightly described them as every bit as romantic as the songs by Wagner. These songs are favorites of mine as well, & I was probably heaving a bit at the tremendous, compressed climaxes in "Die Nachtigall".
Mr. Parr dedicated the set of 4 Strauss songs to Philip Eisenberg, prompter at the
San Francisco Opera
, & Ms. Melton sang them with total comfort. During the entire recital, she made me feel that she was singing for familiar friends. When we gave her a big ovation, she said, "Thanks, guys!" After the duo came out for their 2nd encore, there was an amusing moment when they realized they could not start because the page turner had not followed them out with the music. Ms. Melton quickly took it upon herself to go back & retrieve him. I was surprised by the relatively small turn-out of around 60. Almost everyone lined up to greet Ms. Melton backstage immediately afterward.
Ms. Melton is scheduled to appear at a
Salon at the Rex
on December 1st, & I plan to be there too. According to the program notes, Ms. Melton is also the cover for
SF Opera's

Aida
.