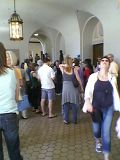 I spent a few hours on Sunday at
Cal Performances
's first
Free for All
, a day of free performances on the U.C. Berkeley campus. Since they had performances happening simultaneously in different venues, one could sample only a fraction of the offerings. At 11am I showed up at Hertz Hall for an ample hour-long guitar recital by
Marc Teicholz
. I had planned to hear
Teslim
at Wheeler Hall at noon, but by the time I got there the venue was full. In fact the venue filled for every performance I attended. Cal Performances seemed well-prepared for the large turnout. Staffers in blue t-shirts made sure people got into lines & received programs & that performances more or less started on time.
I went back to Hertz Hall for the
San Francisco Opera Adler Fellows
concert with sopranos
Leah Crocetto
&
Sara Gartland
, tenor
Brian Jagd
e
& pianist
Tamara Sanikidze
. Cal Performances Director
Matías Tarnopolsky
was on hand to introduce the performers & announce a 10% discount on single tickets purchased that day by Free for All attendees. The singers performed familiar opera scenes, starting with
Sull'aria
from
Le Nozze di Figaro
. The sopranos got a laugh when Ms. Crocetto, as the Countess, pulled out her iPhone & handed it to Ms. Gartland's Susanna, who typed out her message to the Count on it. Hertz Hall has a great acoustic for singers, & Ms. Crocetto's large voice felt like a physical force in that room.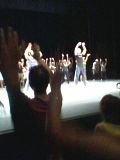 I then headed to Zellerbach Hall where the line was so long that it already went out to the sidewalk & down into the underground parking lot. Once we got in, though, I was rewarded with a seat 3 rows from the stage.
David Lenventhal
&
John Heginbotham
of the
Mark Morris Dance Group
led people on stage & in the auditorium in some of Morris's witty choreography. The obvious glee with which everyone participated made me realize that even when we are audience members, deep in our hearts we really want to be the performers.
Fall Free for All!
Open House at Cal Performances
Sun, Sept 26, 11 am-6 pm
Zellerbach Hall, Lower Sproul Plaza,
Wheeler Auditorium, and Hertz Hall
Free and Open to the Public