Calder to Warhol
Introducing the Fisher Collection
SFMOMA
June 25 - September 19, 2010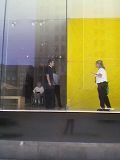 First thing Monday morning I was at the
SF MOMA
to see the
Fisher Collection
show
. Its size alone is impressive. It completely occupies the 2 upper floors plus the sculpture garden, & apparently this is just a fraction of the collection. If nothing else, the show makes clear the meaning of collecting "in depth." Alexander Calder, Gerhard Richter, Agnes Martin, Chuck Close & Andy Warhol each get 1 or even 2 galleries to themselves. It's as if some artists' work were like potato chips to Fisher.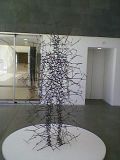 In a video playing in a small room, Mr. Fisher opines that "Museums are elitist, & they shouldn't be." I found all the works in his collection accessible. I even sat through the video pieces by William Kentridge & Shirin Neshat, though I usually get impatient with time-based works. Antony Gormley's
Quantum Cloud VIII
was a nice discovery for me. It's a life-size figure, seemingly made of floating match sticks. The best way for me to experience the huge Chuck Close portraits was to take off my glasses & squint. The Claes Oldenburg pieces are characteristically humorous. His
Inverted Collar & Tie - Third Version
turns a tie into a giant striking cobra. The
Study for Typewriter Eraser: Final Position - ROSC Version
has an extra layer of meaning now that its subject is an obsolete office tool. Perhaps it would be fun to exhibit it with the museum's collection of portable Olivetti typewriters, which is displayed on the
2nd floor
.
I wonder what it means to "own" a Sol LeWitt drawing, which is installed by making marks directly on a wall according to prescribed steps. I also wonder if it was OK for one of the guards to walk on Carl Andre's
Copper-Zinc Plain
, which is a checkerboard of metal tiles laid on the floor. I watched him do this twice. In another gallery, while I was copying information from a label, another guard came up to me & handed me a golf pencil. I was taking notes with a pen, which is not allowed.