This past Tuesday I saw the opening performance of
The Flying Dutchman
at
SF Opera
. The director Petrika Ionesco was fired by David Gockley the previous week & the production hastily re-staged. The rumored laser beams, spaceships & alien zombies were nowhere to be seen. The action takes place on a nearly bare stage. Projections, mostly of the sea & the sky, provide the scenic effects. The staging straightforwardly told the basic story, though I was confused about what the female chorus was supposed to be doing during the act 2 spinning scene. Costumes looked roughly 19th century, though the Dutchman enters in a sort of muscle shirt. The opera ended tamely, with a field of stars projected onto an empty stage.
The singing was strong. Bass-baritone
Greer Grimsley
had a nice tension to his voice & was an appropriately tortured Dutchman. His act 1 monologue was taut & received applause. The Dutchman's entrance is theatrical, with the entire stage floor hinging open to reveal a spooky subterranean world. Soprano
Lise Lindstrom
has a big, solid sound, & she sang with control. Her voice got larger & more focused in the final act. Her Senta, wearing an elegant dress, was a mature woman rather than a naive girl. Tenor
Ian Storey
as Erik was an effortful singer. Bass
Kristinn Sigmundsson
's singing was characterful, & he was a vaguely comic Daland. It was nice to hear the bright ringing sound of tenor
A.J. Glueckert
as the Steersman. The male chorus sang robustly.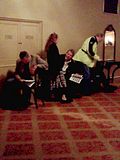 Conductor
Patrick Summers
did not push the music, & the duet of Senta & the Dutchman in act 2 unfolded at a slightly indulgent pace. The orchestra sounded clipped at times. I enjoyed the smooth & sweet oboe solos. The off-stage voices of the Dutchman & the Dutchman's sailors seemed to emanate from the walls of the auditorium. I watched the show in upstairs standing room, where there was plenty of room at the railing. This production takes an intermission after act 1.
§ The Flying Dutchman
Richard Wagner
San Francisco Opera
Conductor: Patrick Summers
Director, Set Designer: Petrika Ionesco
The Dutchman: Greer Grimsley
Senta: Lise Lindstrom
Erik: Ian Storey
Daland: Kristinn Sigmundsson
Steersman: A.J. Glueckert
Mary: Erin Johnson
Tue 10/22/13 8:00pm
War Memorial Opera House