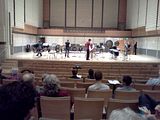 Friday night I heard
Curious Flights
present a genial concert of chamber music, featuring works by British composer
Edwin Roxburgh
. The program opened with Oakland-born
Dylan Mattingly
's
Six Night Sunrise
, a pretty, stream of consciousness piece for violin & piano that ends with a racing finale. I liked violinist
René Mandel
's clean, smooth playing. Pianist
Miles Grabe
r was a solid accompanist.
Clarinetist
Brenden Guy
& percussionist
Nicholas Reed
were a tight duo in Roxburgh's
Dithyramb I
. The piece is somewhat theatrical & required Mr. Guy to play 3 different sizes of clarinet while interacting with Mr. Reed playing a variety of drums, gongs & xylphones. There were high, ear-piercing moments, bent pitches & dance-like passages. Both musicians played with sharply articulated phrasing & close communication. Mr. Guy & Mr. Reed were joined by violinist
Tess Varley
for a suite of jaunty, tuneful & syncopated pieces by
Larry London
. Mr. Reed had a rustic solo played on tin cans of different sizes. He is a flirtatious player & makes wicked eye contact with his partners. He sometimes looks like he is moving underwater. The composer was in the audience.
After intermission, Mr. Reed, surrounded by an array of percussion including gongs, vibraphone & bongos, played a solo piece by Roxburgh. The music begins & ends in near silence & is mysterious & foreboding. Mr. Reed moved stealthily round his circle of instruments, flipped mallets in the air & played without a score. The concert ended with Roxburgh's humorous
How Pleasant to Know Mr. Lear
, performed by an orchestra of about 30.
Nikolaus Hohmann
, wearing a red bow tie & standing to the side of the orchestra, was a droll narrator, reciting a half dozen of Lear's nonsense poems while the orchestra played underneath. The music was often cartoonish, though "The Dong with a Luminous Nose" had a distinctively dark atmosphere, opening with a clear & sustained clarinet solo from Mr. Guy & then elongated notes from the strings. The orchestra convincingly imitated a sitar in "The Akond of Swat," which also included lovely oboe solos by
Sydne Sullivan
. Mr. Roxburgh himself was originally supposed to conduct but was unable to travel from England due to a personal situation. The orchestra sounded great & played neatly under his replacement,
Dustin Soiseth
.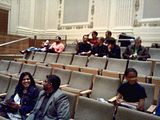 The audience was sparse but supportive & recalled all the performers for 2nd bows. When my concert companion tried to remember the name of a local composer who looks like Santa Claus, a man seated in front of us suggested Terry Riley. It turned out my friend was thinking of Lou Harrison.
§ Curious Flights
Transatlantic Crossings
DYLAN MATTINGLY
Six Night Sunrise (2010)
René Mandel, violin
Miles Graber, piano
EDWIN ROXBURGH
Dithyramb I (1972)
Brenden Guy, clarinet
Nicholas Reed, percussion
LARRY LONDON
Scenes from Dobashi (1998)
Brenden Guy, clarinet
Tess Varley, violin
Nicholas Reed, percussion
EDWIN ROXBURGH
Aube (2008)
Nicholas Reed, percussion
EDWIN ROXBURGH
How Pleasant to Know Mr. Lear (1971)
Curious Flights Chamber Orchestra
Edwin Roxburgh Dustin Soiseth, conductor
Nikolaus Hohmann, Narrator
October 18, 2013 | 8:00 p.m.
San Francisco Conservatory Concert Hall