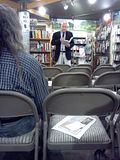 Last week I attended a book reading by journalist
Stephen Jimenez
at
Books Inc. in the Castro
. In
The Book of Matt
he reframes the 1998 murder of Matthew Shepard as a drug crime involving participants who already knew each other. Mr. Jimenez talked about his research, which involved over a hundred interviewees, & read a short chapter in which he is threatened by drug criminals. He then elicited questions from the audience, though it is rather difficult to react to a book that one has not read. Mr. Jimenez had a ready answer for the couple of questions he did get, & he was primed for criticism of both his book & himself.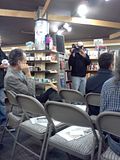 2 video cameras recorded the event, & Mr. Jimenez explained that he was being filmed for C-SPAN on his nation-wide
book tour
. I counted 8 seated attendees, including a homeless person. Bookshop staff & a few others who wandered in during the event also listened to Mr. Jimenez speak.
§ Stephen Jimenez at Books Inc. in The Castro
The Book of Matt: Hidden Truths About the Murder of Matthew Shepard
09/26/2013 7:30 pm