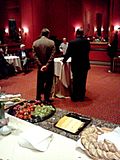 Earlier this week,
Merola Opera
announced next season's events at a wine, cheese &
dessert
reception for members in the plush Wattis Room at Davies Hall.
Jean Kellogg
, Executive Director, revealed that next summer's
productions
will be
André Previn
's
A Streetcar Named Desire
& Mozart's
Don Giovanni
.
Streetcar
will be presented in an arrangement for reduced orchestra by Peter Grünberg. Ms. Kellogg described
Streetcar
as a "good opera for young voices."
Conrad Sweeting
gave some details about the April 12th
Gala
at the Fairmont Hotel. The theme is "A Night in New Orleans." The event is black tie, but Mr. Sweeting assured us that the dress code could be interpreted liberally. The Gala will also honor former SF Opera general director Lotfi Mansouri.
Dan Meagher
, Merola's ebullient Marketing Director, told us about free
opera movies
at the SF Public Library & a holiday concert featuring soprano Kristin Clayton & baritone Bojan Knezevic in Lafayette on December 7th.
Former Merola artists soprano
Nicole Foland
& baritone
Eugene Brancoveanu
, accompanied by pianist
Robert Mollicone
, performed 3 numbers from
Don Giovanni
. Mr. Brancoveanu sang Leporello's Catalog Aria, & his list was on an iPad, so Ms. Foland, playing Donna Elvira, comically flicked through pictures of flags, famous women & the number 1003. Mr. Brancoveanu charmingly hammed it up. He prowled the room, interacted with audience members & even snatched a flower from off a table setting & devoured it. Ms. Foland also sang Blanche's act 3 aria "Sea Air" from
Streetcar
. It was a treat to hear both singers in such an intimate setting.
§ Merola 2014 Season Announcement
Monday, October 21st, 7pm
Wattis Room
Davies Symphony Hall
§ Opera & Ornaments
A Merola Opera Program Holiday Concert
Saturday, December 7, 2013, 2 pm
Lafayette Public Library · Community Hall
3491 Mt Diablo Blvd, Lafayette
$10
§ Merola Goes to the Movies
Koret Auditorium at the San Francisco Library Main Branch
Admission is free
OTELLO, directed by Franco Zeffirelli
Sunday, November 3rd, 2013, 1 pm
A NIGHT AT THE OPERA, The Marx Brothers
Saturday, January 11th, 2014, 1 pm
THE MAGIC FLUTE, directed by Ingmar Bergman
Saturday, March 29th, 2014, 1 pm
Film to be announced
Saturday, May 24th, 2014, 1 pm
§ Gala
Saturday, April 12, 2014
§ A Streetcar Named Desire
July 10, 2014, 7:30 pm
July 12, 2014, 2 pm
§ Schwabacher Summer Concert
July 17, 2014, 7:30 pm
July 19, 2014, 2 pm
§ Don Giovanni
July 31, 2014, 7:30 pm
August 2, 2014, 2 pm
§ Merola Grand Finale and Reception
Saturday, August 16, 2014, 7:30pm