Last Sunday evening
Meyer Sound
in Berkeley hosted a launch party for
As Long as There are Songs
, mezzo
Stephanie Blythe's
new CD of American popular songs. It was recorded in Meyer Sound's
Pearson Theatre
, a small 57-seat venue equipped with an electronic sound system called
Constellation
. It's a combination of microphones, speakers & digital processing which creates a virtual, customizable acoustic for live performances.
Cal Performances
uses Constellation for shows in
Zellerbach
.
Helen and John Meyer
gave a brief introduction & demonstrated how the Pearson Theatre's dead acoustic can be changed to simulate various spaces, such as a lecture hall, a concert hall or the echoey interior of a mosque. We heard a track from the CD, then Ms. Blythe came out with pianist
Craig Terry
, her accompanist on the CD, & sang 3 more songs for us, with the room set to sound like a large, resonant space. The fullness of her voice & the clarity of her diction gave her renditions real immediacy. "The Man that Got Away" made me feel like I should be crying into a glass of scotch. Mr. Terry's robust accompaniment had a lot of personality.
Photo by Jesse Goff
Ms. Blythe explained that her performances are influenced by what a space gives back to her & that it was a great experience to record in an acoustic adjusted to approximate what she hears in her head. The CD was recorded with just 2 small microphones placed in front of her. The people at Meyer Sound are a friendly crew & obviously love what they do. When I asked questions about the theater's sound system, they gave me a private demo & let me play with the iPad app that controls the room's settings. They compared the use of the Constellation sound system to the moveable sound panels in Davies Hall & to the way street performer
Robert Close
uses the acoustics of Maiden Lane to project his voice around Union Square.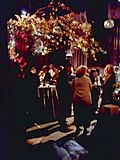 Refreshments were served in an intimate party room with low lighting. It had a canopy of tree branches hanging just above eye level & an ambient sound of chirping birds. The bustling event photographer asked me to pose with several people I had only just met.