Last week I was in downstairs standing room for
San Francisco Opera
's visually extravagant production of
Boito's Mefistofele
. The Prologue & Epilogue, set in a heavenly opera house teeming with ghostly angels, is a spectacle & a great fit with the music. The chorus has lots of assignments in this opera, & they were terrific in all of them. They were especially exuberant in the Walpurgisnacht scene, staged like a gleefully naughty New Year's Eve party. It received cheers from the audience. I was very entertained by the body suits that make choristers look completely naked.
Bass
Ildar Abdrazakov
had a steady, powerful voice, with the exception of his lowest notes. He was a patrician & somewhat aloof devil. His burly physique worked well with his shirtless costuming. Tenor
Ramón Vargas
sang musically & without strain, & his performance was very level throughout. Soprano
Patricia Racette
comfortably sang both Margherita & Helen of Troy the night I attended. She is an excellent actress & was very affecting as the condemned Margherita in act 3. I liked the bright & connected singing of tenor
Chuanyue Wang
as Wagner in the duet with Faust in act 1. Mezzo
Erin Johnson
was amusingly bubbly & buxom as Marta in act 2. Mezzo
Renée Rapier
was solid in her duet with Elena in act 4.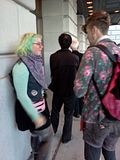 Nicola Luisotti
was an excitable & occasionally indulgent conductor. The orchestra sounded vivid. The brasses rang out clearly, & it was fun hearing the off-stage brasses. There were a few ragged moments in the strings. The orchestra level audience gave the show a standing ovation. I sometimes watched the show through binoculars, & an usher tapped me on the shoulder to make sure I did not miss Faust & Mefistofele appearing in the box seats. The indefatigable
@LaurenSeattle
introduced herself to me while we were in the standees line & at the end of the evening declared the production well worth the trip.
§ Mefistofele
Music by Arrigo Boito
Libretto by the composer

San Francisco Opera
Conductor: Nicola Luisotti

Mefistofele: Ildar Abdrazakov
Margherita, Elena: Patricia Racette
Faust: Ramón Vargas
Marta: Erin Johnson
Pantalis: Renée Rapier
Wagner, Nereo: Chuanyue Wang

Production: Robert Carsen
Revival Director: Laurie Feldman
Designer: Michael Levine
Lighting Designer: Gary Marder
Chorus Director: Ian Robertson
Choreographer: Alphonse Poulin

Tue 09/24/13 8:00pm
War Memorial Opera House