Sunday afternoon
, I heard mezzo
Stephanie Blythe
sing Haydn & Handel with
Les Violons du Roy
, a Canadian chamber orchestra led by
Bernard Labadie
. Instrumental suites by Telemann & Bach began each half of the program. Members of Les Violons du Roy play modern instruments, but their approach is influenced by period performance practices. Tempos were fast & snappy, with punchy accents. The strings use almost no vibrato, & the sound is bright. The group's 3 oboes sat front and center, between the 1st & 2nd violins. I liked the oboes' very tight ensemble in a rapid passage in the
Espagniol
movement of the Telemann suite. We heard Bach's Orchestral Suite No. 4 in the "original version" that had no trumpets or timpani. The string players used baroque bows for the orchestral suites but switched to modern bows when accompanying Ms. Blythe.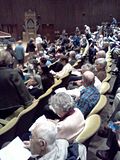 It was a thrill to hear Stephanie Blythe's powerful voice. It's like a tree trunk, & I felt it in my chest as well as heard it. Her voice easily filled the recital-sized Hertz Hall, but there were a few moments when she got really loud, & then you realized just how much she actually scaled back her sound. Before intermission, she sang Haydn's recitative-heavy cantata
Arianna a Naxos
, communicating nobility & anger. The concert closed with 3 arias from Handel's
Giulio Cesare
. In the flashy "Empio, dirò, tu sei" Ms. Blythe had to take a breath during the rapid 16th note runs, but all the notes were clear. She was appropriately sneering in "L'empio, sleale, indegno," & the orchestra accompanied her with biting chords. Her sustained notes in "Aure, deh, per pietà" were wonderfully plush & thick. The audience was impressively quiet & did not applaud between the Handel arias. They even held the silence at the end of the last aria before giving Ms. Blythe a standing ovation. Her encore of "Che farò senza Euridice?" was nicely even.

§ Les Violons du Roy
Bernard Labadie, music director
with Stephanie Blythe, mezzo-soprano

TELEMANN: Orchestral Suite in C major, TWV 55:C6 (Ouverture à 7)

HAYDN: Arianna a Naxos, Hob. XXVlb:2 (1789)
(anonymous arrangement for string orchestra)

BACH: Orchestral Suite No. 4 in D major, BWV 1069
(original version) (1718)

HANDEL: Selections from Giulio Cesare, HWV 17
Empio, dirò, tu sei
L'empio, sleale, indegno
Dall'ondoso periglio...Aure, deh, per pietà

Encore:
GLUCK: Che farò senza Euridice? (from Orfeo ed Euridice)

Cal Performances
Sunday, October 20, 2013, 3pm
Hertz Hall