Thursday's closing night film at
SF DocFest
couldn't have been more timely.
Terms and Conditions May Apply
is a worrying documentary about the government's use of the data that online companies such as Google & Facebook collect on us. It uses interviews, news footage, & a close reading of
various
privacy
policies
to show that such data sharing is perfectly legal & that we've even agreed to it. A CIA official testifies that Facebook is "truly a dream for the CIA." Most unsettling are the stories of people detained by government & law enforcement agencies solely because of something posted online. The film is a call to
activism
& a response to those who say they are OK with government surveillance because they have nothing to hide. The documentary also includes humorous animations & film clips, & it ends with a bit of guerilla filmmaking in which director
Cullen Hoback
tracks down
Mark Zuckerberg, who just wants to stop being followed.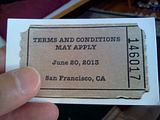 The lively DocFest audience yelled "Don't do it!" during the opening sequence in which a computer mouse clicks on myriad "Accept" & "Submit" buttons. Mr. Cullen was present for a Q&A. We learned that
Barrett Brown
, one of the film's interviewees, has since been put in prison & is awaiting trial. An epilogue about NSA whistleblower Edward Snowden was added right before the screening. A clip earlier in the film shows George Bush describing what I assume is the NSA's warrantless wiretapping. It made me consider that Mr. Snowden's crime is not espionage but dissent. The Roxie audience was invited to an after-party at
Picaro Tapas Restaurant
across the street, where I had a glass of sangria, explained proxy servers, & traded travel stories about Turkey with fellow movie-goers.
§ Terms and Conditions May Apply (2013)
USA, 79 min, Cullen Hoback

12th Annual SF DocFest
Roxie Theater
Thu 6/20/2013 7p