Wednesday night I attended the opening of
Tales of Hoffman
at the
San Francisco Opera
. I'm glad I saw it from downstairs standing room, since you really need to see the entire stage for the production's full effect. Massive walls gracefully open, close, & reorient themselves to suggest different spaces. The set is bathed in a moody blue light, & the cast, in 19th century costumes, inhabit a nighttime, dream-like environment. The staging emphasizes the opera's groteseque humor.
Tenor
Matthew Polenzani
sang the title role with consistency. His high lyrical voice was free, open, & ardent. Mezzo
Angela Brower
, as a jealous Muse & Nicklausse, sounded full & even. As the 4 incarnations of Hoffman's nemesis, bass-baritone
Christian Van Horn
was fittingly stern & grave, & he had a number of evil laughs.
Soprano
Hye Jung Lee
's Olympia was the high point of the evening & perhaps of the summer season as well. Her legless Olympia displayed mechanical abilities that made me gape, & she nailed every high note & gesture joyfully. The audience responded with gasps, laughter, & a long ovation. I seriously considered whether it might be OK to leave at intermission.
I love soprano
Natalie Dessay
's sympathetic stage presence, so it was difficult to hear her voice fraying around the edges as Antonia, even though the middle of her range was invitingly warm. Tenor
Steven Cole
sang 4 servant roles with a lot of character & was a great physical comedian. Soprano
Jacqueline Piccolino
made a comfortably rich, robust sound in a cameo as the opera singer Stella.
Thomas Glenn
's mad scientist Spalanzani was nicely wacky.
Patrick Fournillier
's conducting was lively & elegant, & he avoided making Offenbach sound like oompah music.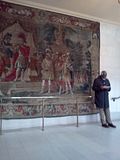 Offenbach died 4 months before the premiere of Hoffman, so the opera is actually unfinished. These performances use something called the Keck-Kaye edition, which represents the latest thinking on the composer's original intentions. There is a good amount of spoken dialogue & a substantial prologue & epilogue. The Antonia act is in the middle, between 2 intrermissions. The opera may have exhausted some in the audience, as there was a mini exodus from the orchestra level after the Giulietta act. Because it's so important to see the entire stage, the balcony video screens will be in use every performance, even those without OperaVision.
§ Les Contes d'Hoffman
Jacques Offenbach
Performing Edition based on the integral edition of the opera by Michael Kaye and Jean-Christophe Keck
San Francisco Opera
Conductor: Patrick Fournillier
Director: Laurent Pelly
Hoffmann: Matthew Polenzani
The Muse/Nicklausse: Angela Brower
Coppélius, Dapertutto, Dr. Miracle, Lindorf: Christian Van Horn
Frantz, Andrès, Cochenille, Pittichinaccio: Steven Cole
Luther, Schlemil: Hadleigh Adams
Nathanaël: Matthew Grills
Hermann: Joo Won Kang
Spalanzani: Thomas Glenn
Olympia: Hye Jung Lee
Antonia: Natalie Dessay
Crespel: James Creswell
Voice of Antonia's Mother: Margaret Mezzacappa
Giulietta: Irene Roberts
Stella: Jacqueline Piccolino
Wed 06/5/13 7:30pm
War Memorial Opera House