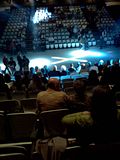 Last week I saw the
National Theatre of Scotland
's
Black Watch
, a show based on the experiences of Scottish infantrymen in the Iraq War. It's being presented in the vast indoor space of the drill court of
The Armory
. The audience sits on 2 steep banks of risers facing each other across a long, narrow playing area. The show combines theater, choreographed movement, singing, video, & spectacle & is an affectionate & unidealized portrait of the young soldiers of the Black Watch, a Scottish regiment dating back to the 18th century.
The skeletal plot moves back and forth between the soldiers gathered at a pub after the Iraq War & scenes of the war itself. Clever use of props, lighting, & sound make the transitions instantaneous. The audience applauded a set piece in which Cammy, the one character who speaks directly to the audience, gives us a history of the regiment's uniforms as the other actors dress him in each one, flipping him every which way in the process. The production has a powerful sound system, & the combat scenes' explosions shake the seats.
The all-male cast of 10 give sincere performances & are physically strong, never tiring during the 2-hour, intermissionless show. The characters' Scottish dialect was occasionally impenetrable to me. The words "fuck," "cunt," & "shite" seem to make up a third of the dialogue.
Stuart Martin
has a charismatic swagger as Cammy, &
Robert Jack
is convincing as both a naive interviewer & a snapping sargeant.
At the end, as if on cue, the audience rose for a standing ovation. A family sat next to me. On their arrival, the mother began berating her teenage son, who then spent most of the performance reaching his head between his knees.
§ The National Theatre of Scotland
Black Watch
By Gregory Burke
Directed by John Tiffany
Macca: Cameron Barnes
Stewarty: Benjamin Davies
Kenzie: Scott Fletcher
Fraz: Andrew Fraser
Writer/Sergeant: Robert Jack
Officer/Lord Elgin: Stephen McCole
Rossco: Adam McNamara
Cammy: Stuart Martin
Granty: Richard Rankin
Nabsy: Gavin Jon Wright
Armory Community Center
Thursday, 30 May, 2013, 8p