Tuesday night
Curious Flights
commemorated the 100th birthday of Benjamin Britten with a pleasing program of his lesser-known works. Britten wrote the
Movement for Wind Sextet
when he was only 16. The piece is pretty, & its inclusion of the bass clarinet imparts a primeval feeling. The
Valinor Winds
gave it a smooth & clean performance. The
Friction Quartet
, plus guest violist
Jason Pyszkowski
, gave a lush performance of the
Phantasy in F Minor for String Quintet
, written just a few years later. Cellist
Doug Machiz
bowed & plucked its reiterated theme with anchored & rounded gestures. Violist
Pei-Ling Lin
has a supple sound, & violinists
Kevin Rogers
&
Otis Harriel
communicate urgency. I liked how the players conscientiously handed off the music's lyrical phrases to each other. The piece ended with an extended silence, & the audience was almost reluctant to start applauding.
Tenor
Brian Thorsett
was arresting in the Canticle III. His high, ringing voice filled the hall & sounded fervent & eerie. There was a startling moment when he suddenly switched from singing to speech.
Kevin Rivard
, of the
San Francisco Opera Orchestra
, played the horn part with calmness & used a different timbre for each of his solos.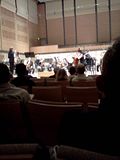 During intermission the stage was reset for an orchestra of about 50, that included 4 basses, 4 horns, & a harp. The program concluded with
Movements for a Clarinet Concerto
, featuring clarinetist
Brenden Guy
. It's a jaunty 3 movement concerto constructed by
Collin Matthews
from Britten's sketch for an unfinished concerto for Benny Goodman plus unrealized contemporaneous material. Though the music is exuberant & virtuosic, Mr. Guy was a low-profile soloist, his playing skillful & sunny but a bit reined in. He used music, & there was no traditional cadenza. Instead, he shared the spotlight with the orchestra, which sounded taut & brilliant under conductor
Alasdair Neale
. It was fun hearing the bass clarinet at the end of the 1st movement.
The audience at the SF Conservatory was sparse but appreciative, & I felt like I was at an event with many friends.
Karen Ames
introduced the concert & acknowledged Mr. Guy's father, who was here from the UK.
§ Curious Flights: A Britten Celebration
All Works By Benjamin Britten (1913-1976)

Movement for Wind Sextet (1930)
Valinor Winds
Sasha Launer, flute
Jessie Huntsman, oboe
Brenden Guy, clarinet
Jeannie Psomas, bass clarinet
Alexis Luque, bassoon
Caitlyn Smith, horn

Phantasy in F Minor for String Quintet (1932)
Friction Quartet
Kevin Rogers & Otis Harriel, violin
Pei-Ling Lin, viola
Doug Machiz, cello
with
Jason Pyszkowski, viola

Canticle III: Still Falls the Rain, Op. 55 (1954)
Brian Thorsett, tenor
Kevin Rivard, horn
Ulysses Loken, piano

Movements for a Clarinet Concerto (1941-42)
Devised & Orchestrated by Collin Matthews (2007)
Curious Flights Symphony Orchestra
Alasdair Neale, conductor
Brenden Guy, clarinet

June 4, 2013 | 8:00 P.M.
San Francisco Conservatory Concert Hall