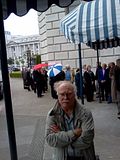 Eager
Merola supporters
started lining up nearly an hour before the start time of the
Merola Auditions for the General Director,
which took place on the stage of the Opera House following this Sunday's matinee of
Tales of Hoffman
. It took about an hour and fifty minutes for all 23 singers to audition for General Director
David Gockley
. The invited audience, seated in the boxes & grand tier, was asked not to applaud until the very end.
All the
Merolini
gave clean, polished performances & sang out loudly. The voices seemed very uniform. Baritone
Alex DeSocio
sang "Avant de quitter ces lieux" from
Faust
with an open, ringing sound. Soprano
Linda Barnett
's "Tu che di gel sei cinta" from
Turandot
was focussed & chilling. I liked the connected singing of baritone
Chris Carr
in Silvio's aria from
Pagliacci
. Tenor
Issachah Savage
was arresting & sang gorgeous high notes in an aria from
Andrea Chenier
. I thought tenor
Robert Watson
had an interesting tension in his voice. Mezzo
Zanda Švēde
has a distinctive deep, viscous voice. She sounds like an alto. Tenor
Darren Pene Pati
has a hugely warm stage presence as well as a warm, pleasing sound. His version of "Che gelida manina" from
Boheme
was refreshingly musical. It elicited a "Bravo" from Mr. Gockley. Bass-baritone
Thomas Richards
gave a powerful performance of Claggart's monologue from
Billy Budd
that made me feel I was actually watching the opera, & Mr. Gockley responded with another "Bravo."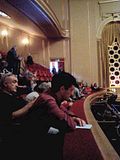 The singers were accompanied by Merola's 5 apprentice coaches.
Jeremy Weissmann
was a flowery pianist, especially when imitating Papageno's bells for bass-baritone
Rhys Talbot
. Pianist
Michael Shannon
's playing was clearly-stated & precise. There were callbacks for mezzo
Rihab Chaieb
, tenor
Issachah Savage
, soprano
Maria Valdes
, mezzo
Zanda Švēde
, tenor
Darren Pene Pati
, & mezzo
Daryl Freedman
. I enjoyed Mr. Savage's unexpected 2nd offering, Siegmund's "Ein Schwert" monologue from
Die Walküre
. I wanted him to keep going through to "Wintersturm."
§ Merola Auditions for the General Director
Sunday, June 23, 6:00 PM
War Memorial Opera House Mainstage