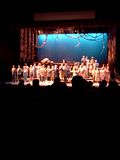 Sunday I heard the matinee performance of
The Pearl Fishers
at
Opera San José
. I've only heard this opera once before, but I like its undemanding & pretty music. I heard the 2nd of 2 casts for this production. They all gave consistent performances, though pitch drifted slightly throughout the afternoon. Tenor
James Callon
's voice is gritty but bright. He maintained a very soft dynamic level in his "Je crois entendre encore." Soprano
Melody King
portrayed a robust & independent Léïla with both her singing & acting. Baritone
Zachary Altman
has a clear, slightly metallic, sound, & his popping climaxes filled the hall. He was a swaggering Zurga. I liked the directorial decision to have him leap off the cliff at the end, Tosca-style. Bass
Silas Elash
as Nourabad has a pleasing, round sound that he seems to produce with ease. The relatively small chorus sang with gusto & sounded bigger than a mere 2 dozen singers. They were especially vivid in act 2 as an angry, knife-wielding mob.
The picturesque set depicts an ancient stone ruin overrun with vines & lit by small fires. Stars shine in the sky for the nighttime scenes. At several points 7 young dancers joyfully perform rough-hewn choreography containing an eclectic variety of poses & leaps. A couple of happy children appear on stage in the opening scene.
Conductor
Anthony Quartuccio
led with a square, metronome-like beat which made act 1 move slowly. The orchestra played assertively.
Oboeinsight
had a very exposed oboe solo in act 2, which she phrased with nice detail. It was fun to chat with her over the pit railing during the 2nd intermission. The San Jose audience was generally appreciative & attentive, & they gave the performance a standing ovation.
§ The Pearl Fishers
An Opera in Three Acts
Georges Bizet
Opera San José
Conductor: Anthony Quartuccio
Stage Director: Richard Harrell
Chorus Master: Andrew Whitfield
Léïla: Melody King
Nadir: James Callon
Zurga: Zachary Altman
Nourabad: Silas Elash
Opera San José Orchestra, Chorus, Dancers and Supers
Sunday, September 9, 2012, 3pm
California Theatre