Saturday afternoon I visited the
SF Zine Fest
, taking place this weekend in the County Fair Building in Golden Gate Park. The show gathers local creators of self-published comics, zines, books & print art. The exhibitors fill 2 rooms, & there is an events schedule & a zine reading room.
Sarah Oleksyk
designed the event's pretty 2-color silkscreen poster.
There were a fair number of attendees, despite the holiday weekend. A strong sense of personal investment comes across from all the exhibitors.
Michael Denning
's intricate, mandala-like drawings are fun to look at, & he was eager to explain how he works from the edges in, without any pre-planning. In retrospect, I think the small, surreal dream comics of
Hob
made me uneasy. It was nice to get the latest issue of
Laterborn
from
Jason Martin
after a 3 year gap. Mr. Martin scrupulously explained how to read the "flip side" of the issue. In another generation, no one will get the metaphor.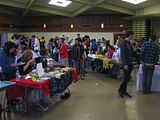 Many attendees came with their dogs, including artist
MariNaomi
, who was quite amused by my Facebook cluelessness. I had a good time trading anecdotes about badly-behaved postal employees with mail art maven
Jennie Hinchcliff
. Comics creator
Brian Herrick
advised me that "owls are trending." Announcements occasionally blared from the PA system, but they were unintelligible.
§ 11th Annual San Francisco Zine Fest
September 1st + 2nd, 2012
11am - 6pm
San Francisco County Fair Building
1199 9th Ave and Lincoln Way
in Golden Gate Park
FREE!