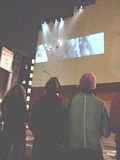 Last night at 9:30p I stood on the sidewalk at 7th Street and Market to watch this
aerial dance
in which 6 brave performers dangled down the side of the
Renoir Hotel
. The half-hour show included recorded music & video projected onto the wall. The videos included people talking about the destitution of the surrounding Market Street area & a once vibrant district in the city of Niagara Falls. The performers progressed up & down the wall suspended from ropes, slowly swinging & twirling as if they were underwater. Life jackets, a metal frame representing a boat, & a bicycle also went up the wall. The crowd watched from the sidewalk across the street & cheered for the performers. The location is not very congenial.
John Marcher
& I cut short our chance encounter on the corner after being accosted by an angry habitué of the neighborhood.
Niagara Falling
will be repeated at 8:30p & 9:30p this Friday & Saturday.
§ Niagara Falling
Flyaway Productions & Dancers' Group/ONSITE
Choreography & Direction: Jo Kreiter
West Wall of the Renoir Hotel
Wed - Sat, Sep 26 - 29, 2012
30 minute performances nightly at 8:30p & 9:30p