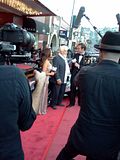 The
17th Annual Berlin & Beyond Film Festival
opened Thursday night at the Castro Theatre. Actor
Mario Adorf
, who receives a tribute at this year's festival, was interviewed on the red carpet before the show. He has a magnificent head of white hair. The opening night film was Christian Petzold's
Barbara
, a taut historical drama about escaping the GDR. It is Germany's entry for next year's foreign film Oscar. The packed audience listened to introductory speeches from Festival President
Sabine Erlenwein
, Festival Director
Sophoan Sorn
, &
Jaimey Fisher
of UC Davis, who told us that the film is Petzold's response to the 2006
Das Leben der Anderen (The Lives of Others)
. The director wanted to show a more colorful GDR.
The storytelling in
Barbara
is meticulously efficient. There are no inessential details. The atmosphere is so tense that the audience jumped when a character accidently shattered a coffee cup. The film's title character is a doctor, recently released from prison, presumably for attempting to flee the country. She is assigned to a provincial hospital where she compassionately goes about her job & nervously engineers her escape, while the Stasi keep her on a tight leash. Despite the dread situation, the film ends as a love story. The festival audience was patient & attentive throughout.
The Castro Theatre organ was played before the screening. As 3 young women removed the speaker's podium after the introductions, the woman next to me commented that these were the best-dressed stagehands she'd ever seen.
§ Barbara
Director: Christian Petzold
Germany (2012), 90 min. (35mm film projection)
Berlin & Beyond Film Festival 2012
Thursday, September 27, 7:00 pm
Castro Theatre