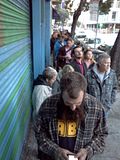 Wednesday night I attended
Nerd Nite SF
, an informal talks series taking place in a
club space
on the opposite side of the block from the SF Conservatory of Music. I arrived about 15 minutes before the advertised start time, 7pm, but this turned out to be when the doors opened. The venue's seats quickly filled up, & by the time things started at 8pm, people had to sit on the floor or stand at the back. Attendees were lively & enviably young. Over the next 2 and half hours there were 3 main presentations, each with slides & a brief Q&A.
Biologist
Jane Ishka
told the skin-crawling true tale of her battle with an infestation of red mites in her home. She is a pithy storyteller, & the audience groaned when she described lying down in bed & feeling the mites crawl into her ear. In a brief appearance,
Kishore Hari
plugged the up-coming
Bay Area Science Fair
& then mocked the questionable story of the origin of tandoori chicken.
Self-confessed local history nerd
Carl Nicolari
exhibited a constant state of glee & led a rapid chase through 10 anecdotes about San Francisco during World War II. Stories ranged from the wacky, such as the air attack panics in which San Franciscans thought they were under aerial attack from the Japanese, to the not-so-wacky, such as the 1st inmate of the POW camp on Angel Island.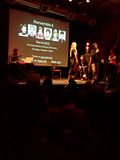 To close the event,
Nonsemble 6
performed 7 selections from Schoenberg's
Pierrot Lunaire
. Pianist
Ian Scarfe
introduced the piece with a breezy, illustrated talk that assumed nothing about the audience. He told us that Schoenberg wrote the piece while a "big freaking war was going on." Soprano
Amy Foote
explained sprechstimme, so that we wouldn't think she was just a really bad singer. The venue has no piano, so Mr. Scarfe played an electric keyboard, but everyone else was unamplified. The ensemble gave a smooth & tidy performance. Everyone but the pianist played from memory. A translation of the text was projected behind the musicians, & Ms. Foote put a lot of acting into her part. All the non-seated performers moved around during the performance. Violinist
Kevin Rogers
is a solid & secure player. He sometimes knelt while playing. The group will perform a staged version of the complete work at the
SFCM
on October 4th, directed by
Brian Staufenbiel
. They will all appear in clown make-up.

§ Nerd Nite SF #28: Mites Mystery, Weird WWII SF, and Pierrot Lunaire

The Year of the Mite: A scientific Detective Story
Jane Ishka

Prowling Subs & Panic Attacks: Ten Bizarre Stories from World War II San Francisco
Carl Nicolari

Pierrot Lunaire, Cabaret for a Crazed Clown: A Performance-Presentation on Arnold Schoenberg's Expressionist Chamber Music Masterpiece
Nonsemble 6
Amy Foote, soprano
Justin Lee, flutes
Annie Phillips, clarinets
Kevin Rogers, violin
Ian Scarfe, piano
Annie Suda, cello

Wednesday, September 19, 2012, 7 PM
Rickshaw Stop