After recently learning about the tragic life of silent movie star Ruan Lingyu, I was curious to see one of her films, so it was fortuitous that the
SF Silent Festival
was featuring her in
Little Toys
from 1933. Festival artistic director
Anita Monga
welcomed the audience to the Friday afternoon screening & thanked us for turning out for an "obscure Chinese film." Author
Richard Meyer
introduced the film & did a good job explaining its political content. The film is a nationalistic response to the Japanese attack on Shanghai in January 1932, & Mr. Meyer read us censored intertitles that exhorted the original audience to take up weapons against the enemy. Interestingly, these same intertitles were again censored by the Communist government when the film was restored in China in modern times.
Little Toys
starts as a rural idyll & ends as melodramatic agitprop. There are some beautiful shots of natural landscapes & a few flashes of avant-garde montage, but it is probably not a great film. Its best moment comes from Ruan Lingyu's tempered performance in a Dickensian recognition scene late in the story. The print we saw shows a lot of film damage & had clumsy & ungrammatical English translations of the intertitles.
Donald Sosin
provided live musical accompaniment on the piano, playing oriental-flavored music with plenty of pentatonic scales & imitations of the zither.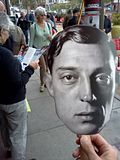 While waiting in line to enter the theater, I was given a freakish fan in the shape of Buster Keaton's head. Between films, slides showing advertisements & movie trivia are projected on the screen. I stood up during a 10 minute delay at the start of the screening but was aksed to sit back down by a woman who said I was blocking her view of the slides.
§ Little Toys (1933)
Sun Yu, dir.

San Francisco Silent Film Festival
Friday, July 13, 1:00 pm
Castro Theatre