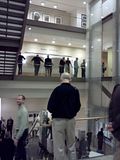 Thursday night I attended the 1st concert of the
American Bach Soloists Festival
, a summer event comprising master classes, lectures & performances, taking place at the
SF Conservatory of Music
. The all-Bach program began with violinist
Robert Mealy
in the Sonata in A Major for Violin & Harpsichord. His tempos were moderate, & he bobbed up & down gently as he played. He added a chordal flourish at the end of the piece. His Baroque violin makes a billlowy sound compared to the modern version. Baritone
William Sharp
was soloist for the solo cantata
Ich habe genug
. An ensemble of 7, one player per part, accompanied him. His voice is clean & even throughout its range & is easy to listen to. His interpretation was tasteful, & he added light dramatic accents.
Debra Nagy
played an immaculate oboe obbligato, & Mr. Sharp did the we-are-not-worthy bow to her during the ovations.
Elisabeth Reed
played the Sonata in D Major for Viola da gamba after intermission. The 6-stringed instrument must be very difficult to play, & she looked flustered at least once. The sound is very quiet, & the bow seems to scud over the strings instead of grabbing them. Ms. Reed & harpsichordist
Corey Jamason
created a contemplative mood for the slow 3rd movement. The program ended with 7 musicians playing a lively
Brandenburg Concerto No. 6
. I enjoyed
Elizabeth Blumenstock
's animated viola playing, especially in the last movement, in which she humorously dialogued with violist
Tekla Cunningham
. ABS audiences are extremely quiet & attentive. They applauded enthusiastically, for the cantata & the Brandenburg in particular.
§ American Bach Soloists Festival & Academy
Chamber Series
Music by Johann Sebastian Bach

Elizabeth Blumenstock, violin & viola
Tekla Cunningham, viola
Corey Jamason, harpsichord & organ
Steven Lehning, violone & viola da gamba
Robert Mealy, violin
Debra Nagy, oboe
Elisabeth Reed, viola da gamba
William Sharp, baritone
Tanya Tomkins, violoncello

Sonata in A Major for Violin & Harpsichord, BWV 1015
Ich habe genug, BWV 82
Sonata in D Major for Viola da gamba & Harpsichord, BWV 1028
Brandenburg Concerto No. 6 in B-flat Major, BWV 1051

Thursday July 12 2012
San Francisco Conservatory of Music