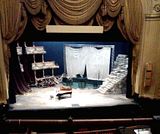 Sunday evening I heard the
Merola
Auditions for the
General Director
, held in the War Memorial Opera House, with the 3rd act of
Attila
still on the stage. First, each
singer
offered one aria, accompanied by one of the apprentice coaches on the piano. After a break, 9 were called back to sing an additional number. General Director
David Gockley
listened from the middle of the orchestra seats, & an invited audience of
Merola members
sat in the grand tier & boxes, though etiquette required that no one applaud until all the singers had auditioned. The program was ordered so that we never heard 2 singers of the same voice type in a row.
I was glad that soprano
Jacqueline Piccolino
got called back. Her "Una voce poco fa" from
The Barber of Seville
easily filled the space, & she seemed to be having fun instead of auditioning. She was just as engaging in a serious aria from Menotti's
The Old Maid & the Thief
. I also liked having 2 chances to hear mezzo
Erin Johnson
, 1st as a dark-voiced Delilah & then as a plucky & resolute Isabella in "Cruda sorte!" from
L'Italiana in Algeri
.
Bass-baritone
Hadleigh Adams
was disturbing as Tarquinius in a scene from Britten's
The Rape of Lucretia
, especially when he disconcertingly unbuttoned his jacket. He sang "Se vuol ballare" for his call back & was an edgy & angry Figaro. Coloratura soprano
Rose Sawvel
made the audience laugh with her sparkling & powerful "Glitter and Be Gay" from
Candide
. Bass-baritone
Matthew Scollin
had a very appealing stage presence singing Papageno's suicide aria, & his accompanist
Francesco Fraboni
did a nice job imitating panpipes on the piano.
There were 7 tenors, all of them excellent.
AJ Glueckert
has a high, focused sound, & I enjoyed his snappy & conversational "La donna è mobile."
Casey Candebat
was intense & urgent in "Pourquoi me réveiller" from
Werther
& elicited appreciative murmurs from the audience. I was sorry he wasn't among the call backs. Mr. Gockley seemed to like
Chuanyue Wang
, whose sound has a solid, concentrated core. At the end of the 3 hour event, all the performers lined up on stage so we could finally applaud them but then couldn't figure out how to get off the stage as a group.
§ Merola Auditions for the General Director
Sunday, July 1, 6:00 PM
War Memorial Opera House

Order of Appearance:

Joseph Lattanzi baritone / Elena Lacheva
Suzanne Rigden soprano / Elena Lacheva
Yi Li tenor / Kevin Miller
Seth Mease Carico bass-baritone / Kevin Miller
Jacqueline Piccolino soprano / Francesco Fraboni
Carolyn Sproule mezzo-soprano / Francesco Fraboni
Joshua Baum tenor / Francesco Fraboni
Hadleigh Adams bass-baritone / Artem Grishaev
Aviva Fortunata soprano / Sun Ha Yoon
Andrew Kroes bass / Sun Ha Yoon
AJ Glueckert tenor / Elena Lacheva
Jennifer Cherest soprano / Kevin Miller
Andrew Stenson tenor / Kevin Miller
Matthew Scollin bass-baritone / Francesco Fraboni
Melinda Whittington soprano / Francesco Fraboni
Theo Lebow tenor / Artem Grishaev
Erin Johnson mezzo-soprano / Artem Grishaev
Rose Sawvel soprano / Sun Ha Yoon
Casey Candebat tenor / Sun Ha Yoon
Elizabeth Baldwin soprano / Artem Grishaev
Gordon Bintner bass-baritone / Elena Lacheva
Chuanyue Wang tenor / Elena Lacheva
Sarah Mesko mezzo-soprano / Kevin Miller

Call Backs:

Jacqueline Piccolino
AJ Glueckert
Erin Johnson
Rose Sawvel
Elizabeth Baldwin
Sarah Mesko
Chuanyue Wang
Jennifer Cherest
Hadleigh Adams