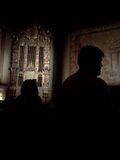 A large audience filled the Castro Theatre for this free
SF Silent Film Festival
presentation about film restoration in the digital age.
Andrea Kalas
from
Paramount
talked about her studio's recent restoration of
Wings
(1927) & showed before & after clips of the cleaned-up footage. She did a good job making me regret not seeing this new version at the previous night's screening. The $700,000 restoration included fixing film stock damage, adding tints & colored elements, & making a sound track with sound effects, based on the original score.
Grover Crisp
of
Sony
then talked about his studio's restorations of
Dr. Strangelove
&
Lawrence of Arabia
.
In all these cases, the end product is not a new print but a DCP, or Digital Cinema Package, meant for digital projection. Indeed, this event resembled a sales pitch for digital projection, but to a skeptical audience. Mr. Crisp even had the projectionist run
Dr. Strangelove
as a projected film & a digital projection simultaneously to demonstrate the differences. Audience members sometimes received non-answers to their pointed questions. In response to one questioner, Ms. Kalas acknowledged the ambiguity in her use of the term "digital film," & the festival's artistic director,
Anita Monga
, jumped in at one point to defend the festival's presentation of
Wings
as a digital instead of a film projection.
§ Amazing Tales from the Archives: Into the Digital Frontier
Andrea Kalas, Vice President of Archives at Paramount Pictures
Grover Crisp, Senior Vice President of Film Restoration and Digital Mastering at Sony Pictures

San Francisco Silent Film Festival
July 13, 10:30 am
Castro Theatre