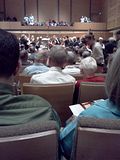 This final performance of the
American Bach Soloists Festival
on Sunday afternoon was packed. The overflow sat in the balcony facing the conductor & in extra seats set out close to the stage. There was an orchestra of about 30 & a chorus of 26, plus 6 soloists. The opening chords were soft-edged & the
Kyrie
gently lilting, as was the performance in general.
I enjoyed hearing soprano
Nola Richardson
, who has a wonderfully pure, youthful voice which is strong yet floating. ABS switched sopranos on us during the intermission, & in the 2nd half we heard
Julianna Emanski
, whose voice is clear & firm. Mezzo
Margaret Fox
made wicked eye contact with the audience during her
Laudamus te
, which was even a bit slinky. Countertenor
Brennan Hall
bewilderingly has the stature & build of a bass. His voice is forceful & rooted, & he sang the
Agnus Dei
with conviction. Tenor
Gene Stenger
has a crisp, gleaming sound with a clear center of pitch. Baritone
Aaron Harp
's high range is especially pleasing. He briefly got ahead of the orchestra during his
Quoniam to solus sanctus
, & he stood on a different side of the conductor for each of his arias.
The obbligato soloists stood up when playing.
Maureen Murchie
played jaunty violin solos in the
Laudamus te
, & all the woodwinds sounded perfectly clean. The violin section used mutes during the duet
Domine Deus
.
Paul Avril
played the valveless horn with amazing accuracy. For the
Benedictus
, the tenor stood in the orchestra next to flute soloist. The chorus sang securely & blended with the orchestra. I liked the tenors' spirited & almost scrappy entrances in the
Cum Sancto Spiritu
.
The entire performance felt well-prepared & could have gone straight to CD. Conductor
Jeffrey Thomas
paused meaningfully between the
Crucifixus
& the
Et resurrexit
. The concluding
Dona Nobis Pacem
was solemn & had a feeling of culmination. The audience respectfully did not applaud right away but let the silence linger until Maestro Thomas had completely lowered his arms to his sides. They then gave the performers a warm standing ovation. My concert companion reported seeing a man cry & later admitted to getting teary-eyed himself.
§ American Bach Soloists Festival & Academy
Masterworks Series
Johann Sebastian Bach (1685-1750)
Mass in B Minor, BWV 232
American Bach Soloists Academy Orchestra
American Bach Choir
Jeffrey Thomas, conductor
Soloists:
Christe eleison
Nola Richardson, soprano
Margaret Fox, mezzo-soprano
Laudamus te
Maureen Murchie, violin
Margaret Fox, mezzo-soprano
Domine Deus
Leighann Daihl, flute
Nola Richardson, soprano
Gene Stenger, tenor
Qui sedes ad dexteram Patris
Johannes Knoll, oboe d'amore
Brennan Hall, countertenor
Quoniam to solus sanctus
Paul Avril, horn
Kelsey Schilling & Tom Hill, bassoon
Aaron Harp, baritone
Et in unum Dominum
Julianna Emanski, soprano
Brennan Hall, countertenor
Et in Spiritum Sanctum Dominum
Debra Nagy & Kristin Olson, oboe d'amore
Kelsey Schilling, bassoon
Aaron Harp, baritone
Benedictus
Jo Brand, flute
Gene Stenger, tenor
Agnus Dei
Brennan Hall, countertenor
Sunday July 22, 2012, 2pm
San Francisco Conservatory of Music