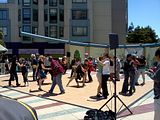 I generally steer clear of crowded street fairs, but one of my weekend destinations was smack in the middle of the
Fillmore Jazz Festival
, so I ended up strolling through this one anyway. Security personnel kept drinkers corralled into fenced-in alcohol areas, so it was actually not that crazy. The public swing dance lessons were a hit, & the mixed crowd of joyful dancers looked like they were one rehearsal away from being a
Pina Bausch
number.
After buying a spicy tuna roll, I was invited to eat it in
Yoshi's
swank lounge, where I heard the last half hour of a set by
James Whiton
, on electric upright bass, &
Destiny Muhammad
, who played jazz harp & sang & was infectiously happy. Mr. Whiton can be an extravagant player, & he got all sorts of effects out of the instrument. At one point he made it sound like it was gargling. The harp is not an ethereal instrument in Ms. Muhammad's hands, & I liked her direct & forthright playing. I also loved the big-hearted way she appreciatively thanked people for coming when they got up to leave mid-set.