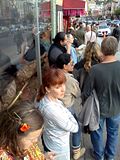 There was a delay letting people into the Castro Theatre for the final program of the
San Francisco Silent Film Festival
on Sunday night, & I did not see any empty seats by the time the program began, about 15 minutes late. The evening began with a raffle, followed by a showing of the candy-colored 2011 restoration of Georges Méliès's
A Trip to the Moon
.
Stephen Horne
accompanied elegantly on the piano, playing tunes from Offenbach's
Le voyage dans la Lune
. There are no intertitles, so actor
Paul McGann
read the film's narration. Mr. Horne improvised on Bach's
Air for the G String
when the film did not start rolling immediately.
On entering, the audience received fans made of cut-outs of Buster Keaton's face, & we were asked to hold them over our own faces as photographers took pictures for
Fandor
.
Frank Buxton
and
Leonard Maltin
reminisced about meeting Buster Keaton & pointed out Buster Keaton's granddaughter & great-grandchildren in the audience.
The main feature was
The Cameraman
, probably Buster Keaton's last great film. In the episodic story, Buster plays a hapless newsreel photographer courting a pretty girl working in the news office. The film still works beautifully, & the festival audience was great. They laughed in all the right places, applauded the best gags, & hissed Buster's romantic rival. The elevator shot that follows Buster up & down several floors of a building is still amazingly clever. For some reason I think it's hilarious that the Chinatown gangs in the Tong War scene have mounted machine guns. The
Mont Alto Motion Picture Orchestra
accompanied the movie, providing pleasing Salon-style background music. I liked their choice of the
Blue Danube Waltz
for the famous changing room scene.
§ The Cameraman (1928)
Directed by Edward Sedgwick, Buster Keaton
Accompanied by the Mont Alto Motion Picture Orchestra
Introduced by Frank Buxton and Leonard Maltin
Shows with Georges Méliès' A TRIP TO THE MOON - with live narration by Paul McGann!
San Francisco Silent Film Festival
Sunday, Jul 15, 2012 7:30 PM
Castro Theatre