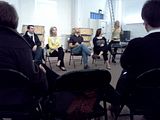 Friday afternoon I was in the small audience for a staging rehearsal of
Ensemble Parallèle
's production of
The Great Gatsby
by John Harbison. We saw the principals, chorus & supers run through 4 scenes, with piano accompaniment. Even though there were starts and stops, do-overs & no sets, the excerpts were dramatic. The casting is great. Bass
Bojan Knezevic
delivers a horrific opera scream in the car crash scene. Soprano
Susannah Biller
as Daisy already identifies fully with her character. Tenors
Marco Panuccio
&
Dan Snyder
make an excellent contrast both physically & vocally as Gatsby & Tom. The score sounds modern, though Harbison has also written authentic-sounding jazz songs for an on-stage band & for music coming out of a radio. During one of the breaks, conductor
Nicole Paiement
said that her favorite bars of the opera are when Gatsby & Nick 1st meet & sing, "I'm Gatsby!" -- "You're Gatsby!"
Director
Brian Staufenbiel
described the deployment of scrims & video projections, & it seems complicated. The production moves into the Novellus Theatre on Monday for final preparations, & there's clearly a lot yet to work out. A Q&A with the principals followed the rehearsal. We learned that this production cuts about 30 minutes off the original, all with the composer's approval. A significant cut is ending act I with a love scene between Daisy & Gatsby. Maestra Paiement also said that her tempos are often fast, to get the dialogue up to the speed of conversation.
Ensemble Parallèle performs The Great Gatsby by John Harbison
on February 10, 11 & 12 at the Novellus Theatre, Yerba Buena Center for the Arts.