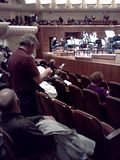 It's great that former San Franciso Symphony Music Director
Herbert Blomstedt
continues to come back every season to lead 2 weeks of concerts, even though he is well into this 80's. It was a nearly full house for this intermissionless, 80 minute concert featuring Bruckner's 5th Symphony. Maestro Blomstedt led without a score & used simple, sweeping gestures. Despite the piece's length & big repeats, the peformance was buoyant & light-filled. The climaxes sounded full without blaring. The ending of the 1st movement was sheer & bright. The 2nd movement sometimes had a slight lilt. The strings' melody was velvety & lush. I liked the steely flute solo from
Timothy Day
& the dark sound from oboist
William Bennett
. Mr. Bennett made an impressively legato octave jump. There was a stunning moment for the whole orchestra when a very clean cut-off led into a long pause. Orchestral balances were very clear, & a passage in which big brass chords combined with rolling string arpeggios was gorgeous.
The 3rd movement often felt like a country dance. The jocular clarinet solo in the 4th movement was sharply articulated & vivid. The last movement's extended coda was taut & sustained, & the finale was shimmering & sunlit. The performance received an immediate standing ovation & shouts of "Bravo" for Maestro Blomstedt, who gestured appreciatively to the orchestra.
The audience was attentive, though an elderly couple in the front row left during the 2nd movement by walking all the way up a center aisle. The 1st & 2nd violins were split, which made sense, as the two violin parts were often independent. The strings have to play continously, but they were tireless.
§ Herbert Blomstedt conducts Bruckner's Symphony No. 5
San Francisco Symphony
Herbert Blomstedt, conductor
Bruckner: Symphony No. 5
Fri, Feb 10, 2012 8:00pm
Davies Symphony Hall