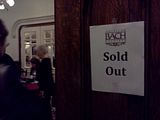 On Oscars night, the
American Bach Soloists
sold out St. Mark's Lutheran for a fastidious
performance
of the "early version" of Bach's
St. Matthew Passion
. Tempos were either fast or very fast. The brief duet for Testis I & II sounded like a race. There was one singer per part, even for the choruses, which all had a rapid, compressed feeling. There was also only one instrumentalist per part & one set of continuo players. For the arias "Erbarme dich" & "Gebt mir meinen Jesum wieder!", the obbligato solos thus had to be played by a violinist from the opposite orchestra. Despite this paring down, conductor
Jeffrey Thomas
had 16 additional choristers on stage who only participated in the chorales & the final chorus. This gave the chorales a heaviness & depth that set them apart from the other numbers. 9 well-prepared members of the
Pacific Boychoir
were considerately dismissed immediately following their duties in the opening chorus.
All the singers had clear, clean voices well suited to the music.
Wesley Rogers
was an intense Evangelist with a loud, ringing voice. Mezzo
Danielle Reutter-Harrah
has an even sound with a pleasing warble. Her "Erbarme dich" was sustained. Soprano
Clara Rottsolk
's voice was beautifully pure, strong & arresting. I liked how she placed a clear climax in "Aus Liebe". Tenor
Aaron Sheehan
has a high, smooth voice & sounded pleading in his Part I recitative & aria. Tenor
Derek Chester
was sterling & confident in his "Geduld!" aria. I enjoyed baritone
Mischa Bouvier
's full, cushy sound & connected singing, & I wished he'd had more arias. Maestro Thomas played a keyboard instrument listed as a "Lautenwerk" to accompany Mr. Bouvier in "Komm, süßes Kreuz." Apparently the instrument is supposed to sound like a lute, but something went wrong with the tuning, & Mr. Bouvier sang undaunted through a lot of bent pitches. It was unsettling, especially as the orchestra otherwise played with impressive accuracy.
The most obvious differences I noticed in this early version of the score were missing flutes in "Blute nur," the replacement of the chorus at the end of Part I with a chorale, & the assignment of the 1st aria in Part II to bass instead of alto. The highly serious audience was extremely quiet & attentive for the entire performance, whose 2nd half lasted about 100 minutes. The audience responded with a standing ovation & recalled Maestro Thomas several times. The musicians stamped their feet in appreciation as well.
§ Bach's St. Matthew Passion

American Bach Soloists
American Bach Choir
Jeffrey Thomas, conductor

Johann Sebastian Bach: St. Matthew Passion
Early Version, BWV 244b

Wesley Rogers, tenor (Evangelista)
Joshua Copeland, baritone (Christus)

Clara Rottsolk, soprano I
Anne-Kathryn Olsen, soprano II
Danielle Reutter-Harrah, alto I
Jay Carter, countertenor II
Aaron Sheehan, tenor I
Derek Chester, tenor II
Mischa Bouvier, baritone I
Robert Stafford, baritone II
Pacific Boychoir

Sunday, February 26, 2012 at 7:00 PM
St. Mark's Lutheran Church