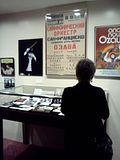 As part of their Centennial Season, the
SF Symphony
is presenting 2
concerts
of the
Chicago Symphony
, conducted by
Riccardo Muti
. A huge orchestra with lots of percussion was on stage for the 1st half of Tuesday night's program. It began with Honegger's
Pacific 231
. It was short but raucous. The chugging rhythms clearly evoke the locomotive the piece is named after. The orchestra showed off its blended brass sound, & the strings made driving & astringent sounds. I was impressed by Maestro Muti's springy motions on the podium. It was a breathless way to start.
This was followed by
Alternative Energy
, a large 4 movement work by
Mason Bates
, Chicago Symphony's composer-in-residence. The piece has a detailed program about industrial landscapes. The 1st section features a funky metallic percussion section & a ratchety car motor crank, which the player turns at various speeds. There's also a hoedown-like violin solo which returns at the end of the piece. Pre-recorded sounds enter in the 2nd movement. The speakers are placed around the stage, so the samples have a spatial dimension & swoop around the orchestra. We hear factory noises, hydraulic lifts & warning buzzers, launched in jazzy, syncopated rhythms. The 3rd movement introduces mysterious high-pitched crackling, & chirping birds emerge in the 4th movement. The recorded sounds interweave with the orchestra, which plays colorful musical fragments in stomping rhythyms reminiscent of house music. The whole thing has a youthful, optimistic feel & was great fun to listen to. There was a huge response from the audience & bravos for Mr. Bates. The appearance of Mr. Bates confused the woman seated next to me, who said that she had expected the composer to be a woman. She showed me Anna Clyne's name in the program, & I pointed out that she was looking at the pieces for the following night. I guess she was not surprised that an
Entr'acte
by Schubert sounded like the 20th century Honegger.
The 2nd half was contrastingly restrained. Maestro Muti led a controlled, muted performance of the Franck Symphony. The orchestral balances were very even & soft. There was one shimmering climax in the final movement, but otherwise it was a reticent interpretation. The audience responded warmly, & there was a scattered standing ovation. Someone near me shouted for an encore. However, after conferring with the 1st chair players, Maestro Muti waved goodbye to us & walked off the stage, followed by the orchestra.
§ Chicago Symphony Orchestra and Riccardo Muti
Riccardo Muti, conductor
Chicago Symphony Orchestra
Honegger: Pacific 231
Mason Bates: Alternative Energy (CSO commission)
Franck: Symphony in D minor
Tue, Feb 14, 2012 8:00pm
Davies Symphony Hall