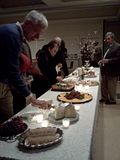 Sunday evening I heard 6 members of the
The Monteverdi Consort
in a program of Renaissance vocal music in a church venue in Cow Hollow. Bass
Robert Worth
introduced each piece. He explained that all the pieces are built around the earliest solfège syllables ut-re-mi-fa-sol-la, so we heard a lot of ascending & descending scales in the music. After an opening chant for all the voices, 5 singers performed a pastiche mass, made from movements by 4 different composers.
Since there is only one singer per part, every line was distinct. Soprano
Lindsey McLennan
has a pleasant & pretty sound. When there was a missed cue in the Josquin des Prez
Missa
, she firmly restarted & got things back on track. Countertenor
Eric Tuan
sang bodly. Mr. Worth's crisp, clean-toned bass voice was easy to hear. The audience laughed when he comically emphasized a descending scale in the final piece by Peter Philips.
The program lasted a little over an hour, & the audience was quiet & appreciative, applauding especially for the slowly-building
Illibata Dei virgo nutrix
by Josquin de Prez. Though these
Candlelight Concerts
are free, there was a short pause halfway through to collect donations from us while we sat in the pews. A wine, cheese & dessert reception followed the performance. This was the 2nd time in a week that I heard a concert by a group named after Monteverdi yet did not hear any of his music.
§ "Soulmization"
Climbing the Stairway to Heaven

The Monteverdi Consort
Nick Burdick
Lindsey McLennan
Cheryl Moore
Eric Tuan
Will Watson
Robert Worth

Ut queant laxis (hymn in honor of John the Baptist); Gregorian chant

Hexachord Mass / Missa La Sol Fa Re Mi
Kryie eleison; Cristóbal de Morales
Gloria in excelsis Deo; François Roussel
Credo in unum Deum; Giovanni Pierluigi da Palestrina
Sanctus - Benedictus; Benedetto Pallavicino
Agnus Dei; Cristóbal de Morales

Ut Phoebi radiis; Josquin des Prez

from Missa La Sol Fa Re Mi; Josquin des Prez
Kryie eleison
Credo in unum Deum
Agnus Dei

Illibata Dei virgo nutrix; Josquin des Prez (ed. Jesse Rodin)

Ut Re Mi Fa Sol La; Peter Philips

Candlelight Concerts
February 19, 2012
7:00 p.m.
The Episcopal Church of st. Mary the Virgin