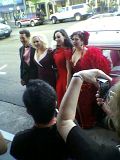 Thursday evening a
pink Studebaker
drove up to the Castro Theater, & out came 3 curvaceous ladies & one trim gentleman. They were cast members of Mathieu Amalric's
On Tour
, the
closing night film
of the
San Francisco International Film Festival
. At the start of the event, the excited audience
again
clapped along to the sponsors reel. Executive director
Graham Leggat
announced that
Incendies
won the Audience Award for Best Narrative Feature, with
13 Assassins
coming in 2nd.
Crime After Crime
won the Audience Award for Best Documentary Feature, followed by
Better This World
.
Rachel Rosen
, sleep-deprived director of programming, accidentally said she wanted to "spank the filmmakers" during her introductory remarks.
In
On Tour
, M. Amalric plays a rangy, down-on-his-luck promoter shepherding a troupe of American burlesque performers through the outskirts of France. It's a bit of a shaggy dog story, so the interest really lies in the outrageous burlesque numbers & in glimpses of life on the road. I wanted to see more of a bizarre strip-tease involving a severed hand, as well as a routine in which the dancer ends up inside a giant balloon. The story is full of random incidents, but a small scene in which M. Almaric's character flirts touchingly with a gas station cashier has a huge emotional pull.
Cast members, & real-life "New Burlesque" performers,
Kitten on the Keys
,
Mimi Le Meaux
,
Evie Lovelle
&
Roky Roulette
were on hand for a Q&A. They told us that even though M. Amalric had a script, he never showed it to them, so they never knew from day to day what they would be shooting. This mimics the movie, in which the promoter keeps the troupe in the dark about a canceled booking. We also learned that an important bit of bedroom dialogue was lifted directly from Colette. Roky Roulette, who had to leave the Q&A early, made a surprise re-entrance dressed as Colonel Sanders & gave the screaming festival audience a live example of New Burlesque. At one point he was wearing nothing but a fake beard & a bucket of KFC. The burlesque show continued at the closing night party, where I heard Kitten sing about her pussy, witnessed Roky disrobe while bouncing on a pogo stick, & marveled at Mimi's spectacular fan dance.
§ Tournée
director, Mathieu Amalric
France/Germany, 2010, 112 min

San Francisco International Film Festival 54
Closing Night
Thu, May 5 7:00 / Castro