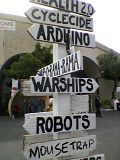 On the 2nd day of being in
my friend's geeky booth
at the
Maker Faire
, the onslaught of curious visitors continued. If anything, people were even more intensely interested in the technical details of wireless sensors. I could discuss the project in general terms, but I think my real job was to make sure no one ripped-off the booth. It was only toward the end of the afternoon that I broke away to see more of the fair, but by this time my ability to absorb new information had really slowed.
I caught part of the raucous
Tesla coil show
& saw a man play the electric guitar while his chain mail suit conducted 1 million volts. In the same hall I admired
Ken Murphy
's meditative video installation
A History of the Sky
. It combines 360 time lapse videos of the daytime sky into 1 view. Its visualization of the winter solstice is sublime.
Maker Faire exhibits often walk a fine line between unique personal projects & out-right commercial enterprises.
2 young gents
in old-timey outfits showed-off
ties made of reclaimed wood
& sold-out of them at the show.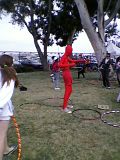 This skinny, faceless, androgynous being wandered the festival on both days. I caught him Sunday afternoon seeming to have fun learning to hula hoop. The steampunks had their own little outdoor neighborhood. Why do complete strangers seem to think that I am in want of a hat? A charming gentleman in a motorcycle jacket insisted that I try on merchandise from the
Steampunk Hatter
along with him. I did learn that my hat size is XL, meaning, I suppose, that I am quantifiably a fat head.
§ Maker Faire
Bay Area, May 21 & 22
San Mateo County Event Center
Saturday 10am - 8pm • Sunday 10am - 6pm