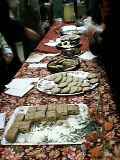 Saturday evening I was in Berkeley for
Chora Nova
's
program of Psalm settings from the Italian Baroque
. The chorus of 51 was split into 2 groups slightly facing one another. A chamber orchestra of 13 accompanied them. Conductor
Paul Flight
did not push. He consistently led with a gentle rocking tempo & a small dynamic range. The laid-back chorus had a spongy sound, & the outer voices predominated.
The Psalm settings sometimes sounded operatic rather than liturgical, & each piece contained some virtuosic passages for the soloists. I enjoyed soprano
Michele Byrd
's clear, slightly metallic sound & her very clean attack. Soprano
Jennifer Paulino
made smooth octave leaps in the "Confessio et magnificentia" of the Pergolesi. I liked her high-flying "Cum dederit dilectis" solo in Galuppi's
Nisi Dominus
, as well as the picturesque soprano duet "Gloria Patri et Filio," in which she held a very long, pretty note.
Vivaldi's
Dixit Dominus
took up the 2nd half. Tenor
Brian Thorsett
sang the sustained 16th-note runs of "Dominus a dextris" with ease. I was startled by the entrance of the natural trumpet at the beginning of one of the choruses. The instrument was quite exposed & played cleanly but for one unfortunate mishap right at the end. Another surprise was when Mr. Flight turned around & sang the "De torrente" aria from the podium in his firm counter-tenor voice.
Toward the end of the Galuppi in the 1st half, a violinist's string broke with a loud pop, & the performance came to a halt for several minutes while the player ran off-stage to replace it. Mr. Flight turned to the audience & said, "This is the perils of a popped string." During the intermission, home-made refreshments were offered for a dollar "in the room behind the narthex."
§ Chora Nova
Paul Flight, Artistic Director

Michele Byrd, soprano
Jennifer Paulino, soprano
Paul Flight, counter tenor
Brian Thorsett, tenor

Vivaldi Discovered!
Psalm settings from the Italian Baroque

Giovanni Battista Pergolesi - Confitebor tibi Domine
Baldassare Galuppi - Nisi Dominus
Antonio Vivaldi - Dixit Dominus, RV 807

First Congregational Church of Berkeley
Saturday, May 28, 2011, 8PM