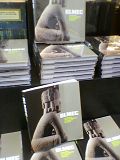 Friday morning I was at the de Young to catch the
Olmec

exhibit
before it closes this weekend. It opens commandingly with that gigantic helmeted head that is on all the posters. What's startling, besides its mass, is that it seems to depict someone in particular. The galleries contain more monumental stone statues, polished stone axes & other objects in the forms of animals or humans. The word "zoomorphic" appears frequently on the labels. There is something appealing about the large figures, with their square, over-sized heads sitting atop squat bodies. They look like the cast of a cartoon show.
El Bebé
, an axe in the shape of crying baby, is so entertaining that I had to try to copy him, even though I can't draw. You can hear him screaming. I was surprised by the refinement of a pair of child-sized masks, carved from jadeite. Their almond-shaped eyes & flat faces make them look Asian. The Olmecs' polished stone axes are so sleek that they could go on a 1950s executive's desk.
A wave of school kids engulfed me at the start of the exhibit, & there were a fair number of adult visitors as well. I did not expect the gallery to be so crowded on a weekday morning. I guess people know it is a fun show. Since the biggest pieces are so massively huge, I left wanting to know how the museum transported them & set them up. A behind-the-scenes look would have been interesting.

§ Olmec: Colossal Masterworks of Ancient Mexico
de Young Museum
February 19, 2011 - May 8, 2011