Thursday morning, on another
SFMade Week
event, I took a tour of the
Rickshaw Bagworks
warehouse factory in Dogpatch. 4 of us showed up & were greeted by Rickshaw's founder & CEO,
Mark Dwight
. He gave us a brief history of the messenger bag, explained the stages of fabrication that are done here, & generally talked up many aspects of the business, from the zero-wastage design of the Zero Mini to his current profitability goals. I liked the concept of the
Round Trip Shipper
, a durable shipping pouch that customers mail back after receiving their product. Rickshaw often receives small gifts back from satisfied customers this way.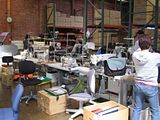 We saw women cutting & sewing products during the visit. I am surprised that companies like this &
Timbuk2
can afford to do manufacturing in the City, but Mr. Dwight has no doubts about the benefits to the local economy, even from this small, 16-person company. He is clearly happy to be running Rickshaw, & his warm & voluble personality sold me on the joys of entrepreneurship. He welcomes visitors to the location anytime they are open, including weekends. An Italian reporter for
Mission Local
was also on the tour. Earnest & dogged, he even interviewed me.
§ Rickshaw Bagworks Factory Tour
SFMade Week