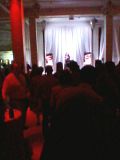 Last night the winners of the
Golden Gate Awards
were announced at the
San Francisco International Film Festival
. Prizes ranged from film stock & laboratory services to cash amounts up to $25,000. Before handing out prizes, members of the award juries read brief statements explaining their selections. South Korean
Park Jung-bum
was awarded the new director prize for
The Journals of Musan
. He accepted his framed certificate modestly & addressed the audience in Korean, which was then translated for us. He also acknowledged a friend who had passed away. In the acceptance speech for
Crime After Crime
, we learned that the subject of the film said she was not afraid to die because she knew that director
Yoav Potash
had made her immortal. One of the presenters teased the man who came up to accept the award for Kelly Duane de la Vega's
Better This World
, saying, "Hey, you're not a Kelly. You're a dude!" He turned out to be the film's embarrassed editor.
The event was basically a moderately-sized, informal cocktail party with a brief awards ceremony in the middle. Attendees were mostly filmmakers, screeners, festival staff, press & sponsors. Someone pointed out to me
George Gund
, a major festival donor. If you see empty seats in an otherwise rush-only screening, those are probably reserved for him.
§ Golden Gate Awards Ceremony
San Francisco International Film Festival 54
Wednesday, May 4, 7:00pm
Temple Nightclub—Prana Restaurant

Golden Gate Award Documentary Feature Winners

Investigative Documentary Feature:
Crime After Crime, Yoav Potash (USA 2011)

Documentary Feature:
Better This World, Kelly Duane de la Vega and Katie Galloway (USA 2011)

Bay Area Documentary Feature:
Better This World, Kelly Duane de la Vega and Katie Galloway (USA 2011)


New Directors Award:
The Journals of Musan, Park Jung-bum (South Korea 2010)


FIPRESCI Prize:
The Salesman, Sébastien Pilote (Canada 2011)


Golden Gate Award Short Film Winners

Narrative Short: Blokes, Marialy Rivas (Chile 2010)
Documentary Short: Into the Middle of Nowhere, Anna Frances Ewert (Scotland, England 2010)
Animated Short: The External World, David O'Reilly (Ireland 2010)
Bay Area Short, First Prize: Tourist Trap, Skye Thorstenson (USA 2010)
Bay Area Short, Second Prize: Young Dracula, Alfred Seccombe (USA 2010)
New Visions: Lost Lake, Zackary Drucker (USA 2010)
Work for Kids and Families: Specky Four Eyes, Jean-Claude Rozec (France 2010)
Youth Work: Z-Man, Nat Talbot (USA 2010)
Youth Work Honorable Mention: The Snowman Kelly Wilson, Neil Wrischnik (USA 2010)
Youth Work Honorable Mention: The Math Test, Sam Rubin (USA 2010)