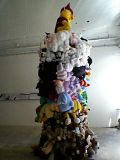 Yesterday afternoon I was walking on the 1st block of Sutter Street when I looked through the window of a gutted retail space & saw this enormous tower of stuffed animals. Winnie-the-Pooh sits at the top. A man inside saw me & waved me in. As soon as a I entered, a woman approached me, shook my hand & introduced herself as the artist,
Topher Delaney
. The space turns out to be
Soker Gallery
, & this is the last week of Ms. Delaney's show. Many of the pieces are large, & none is quite like the others. There are paintings of squirrels, a collection of guns & grenades accurately carved out of soap, & hanging stones that encode messages in Braille. The talkative gallery owner explained that he moved here from 49 Geary, where he was only visited by Academy of Art College students & bored tourists. Now he enjoys visits from people in the Financial District.
§ Topher Delaney
"The Queen's Croquet Ground"
New Work in Various Media

Don Soker Contemporary Art
March 3 - April 30, 2011