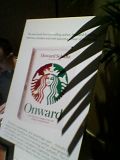 Monday evening the
Commonwealth Club
hosted Starbucks CEO
Howard Schultz
in conversation with
Wired
Editor-in-Chief
Chris Anderson
. At least 400 people, many of them young & in suits, turned up at the Mark Hopkins to see him. Mr. Schultz looked comfortable & spoke volubly but without giving much away. He does not seem arrogant enough to be a corporate chairman, & I believed him when he said he loves Starbucks. The conversation mostly revolved around questions submitted by the audience. Mr. Schultz did not comment on the rumors of a merger with Peet's, except to remind us that the two companies had merged once before in 1984.
He identified consumers' unprecedented access to information as one of the seismic shifts taking place in marketing & claimed that Starbucks is the number one brand on twitter, facebook & foursquare. In his view, social media is for sharing information, but you cannot use it to sell things. While a lot of cafes are pulling their wi-fi, Starbucks not only has free wi-fi but also carries premium content such as the Wall Street Journal. Noting complaints that stores often run out of seating, Mr. Schultz joked that he is still waiting to get his first rent check.
Mr. Schultz offered "health & wellness" as a marketing category that is ripe today, though he admitted that no one has yet "cracked the code." He also told the story of Starbuck's purchase of the company that makes the high-tech
Clover Machine
, which apparently makes it possible to charge $6 for a cup of coffee.
§ Commonwealth Club
Howard Schultz: Starbucks Chairman and CEO
In conversation with Chris Anderson, Editor-in-Chief, Wired
Apr 4 2011 - 6:30pm
Intercontinental Mark Hopkins Hotel