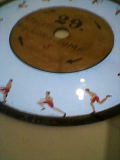 Over the weekend I finally saw the
Eadweard Muybridge

exhibit at

SFMOMA
. The comprehensive show covers his entire career, from early photos of Yosemite & San Francisco to his famous pioneering studies of animals in motion. I enjoyed exploring the magnificent 360° panorama of San Francisco taken atop California Street in 1878. One version on display stretches 17 feet. I was amused to learn that Muybridge sometimes printed clouds into the skies of his landscapes, including this one. The urge to Photoshop goes right back to the beginnings of photography.
It is evident that Muybridge was first & foremost a commerical photographer. Staged views of a Guatemalan coffee plantation were probably commissioned to impress potential investors. This show also made me aware of a strange artifact known as the Brandenburg Album, which is thought to be a scrapbook assembled by Muybridge's young wife Flora.
Muybridge obviously had fun creating his famous motion studies. A pig, an elephant & even a hippo parade in front of his cameras. In one series he photographs himself politely tipping his hat to a naked male model. I was fascinated to see mock-ups for the studies, made from cyanotype contact prints. The last room displays Muybridge's zoopraxiscope, looking like a miniature locomotive. It must have have been startling to see it project moving images back in the 19th century. A video at the end of the exhibit animates images from the motion studies into brief movies.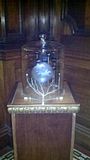 Later that night a friend pointed out a flashing sculpture in the lobby of a building in his neighborhood. He convinced a resident to let us in, & we saw the moving image of a horse projected inside a large glass jar. It turned out to be
Michael Brown
's
Unsupported Transit
, the winning art work from a
Muybridge-inspired contest on NPR
.
§ Helios: Eadweard Muybridge in a Time of Change
SFMOMA
February 26 - June 07, 2011