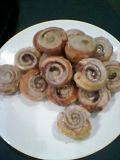 Stile Antico
is an early music ensemble of 12 young British singers, currently making their West Coast debut. Last night they presented a program featuring Renaissance motets by English, Flemish & Spanish composers, on the subject of Christ's death & resurrection. Before the start of their concert at
Calvary Presbyterian
, the gentleman in the pew behind me hummed the Kyrie theme from Bach's B-Minor Mass, so I assume that a lot of singers were in attendance.
The group is conductorless, & they sing with very accurate ensemble & intonation. They make a pure tone with no vibrato, but the sound is substantial. I liked the way they made different lines emerge & reach up in Gibbons's
Hosanna to the son of David.
It was interesting to hear the individual entrances in Gombert's
Tulerunt Dominum meum
& realize that the voices do not sound identical, even though they blend nicely. The sopranos (maybe it's just one in particular) have an especially big, strong sound.The performers look at each other a lot, though I still could not figure out how they always ended together. The silences at the end of each piece were some of the most beautiful moments in the concert.
2 settings of the same text, "Woefully arrayed," bookended the 1st half. The closing setting, by
John McCabe
,
was the one modern piece in the program, & it was a relief to hear something in a less restrained style, though all the music transported me out of the real world for 2 hours. The appreciative audience was very quiet & even shy about clapping initially, though they mistakenly applauded half-way through Thomas Crecquilon's
Congratulamini mihi
. The ensemble received a warm standing ovation. The audience was then invited to a wine, cheese & dessert reception with the singers, who chatted eagerly & were charmingly British. The ensemble includes a set of identical twins & an extremely tall alto.
Part of the proceeds of the concert went to
San Francisco Network Ministries
, a mission aiding people in the Tenderloin. Before the intermission,
Rev. Glenda Hope
spoke for 5 or 10 minutes about the mission's activities. She shared stories about specific clients & told us some blunt statistics about prostitution.
§ Calvary ConcertConnect
Stile Antico
Passion and Resurrection

Woefully arrayed - William Cornysh (1465 - 1623)
Hosanna to the son of David - Orlando Gibbons (1583 - 1625)
O sacrum convivium - Thomas Tallis (c. 1505 - 1585)
In monte oliveti - Orlandus Lassus (1532 - 1594)
O vos omnes - Tomás Luis de Victoria (c. 1548 - 1611)
O crux, ave - Cristóbal de Morales (c. 1500 - 1553)
Woefully arrayed - John McCabe (b.1939)
INTERVAL
Dum transisset Sabbatum - John Taverner (1490 - 1545)
Tulerunt Dominum meum - Nicolas Gombert (c. 1495 - c. 1560)
Maria Magdalene - Francisco Guerrero (1528 - 1599)
I am the resurrection - Orlando Gibbons
Congratulamini mihi - Thomas Crecquillon (c. 1505 - 1557)
Surrexit pastor bonus - Jean Lhéritier (c. 1480 - c. 1551)
In resurrectione tua - William Byrd (c. 1540 - 1623)

ENCORE: The Lord's Prayer - John Sheppard

Wednesday 6 April 2011 8pm
Calvary Presbyterian