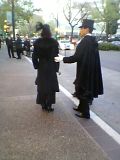 Through the generous intercession of
John Marcher
, I had the great fun of hearing
again
Max Raabe & Palast Orchester
at the Paramount over the weekend. They deliver a pitch-perfect evocation of the big band era & Weimar Republic cabaret. Herr Raabe croons & sings falsetto in a voice that could have come from a radio in the 1930s. With slicked-back hair & wearing a permanent dead-pan expression, he presides over the evening, giving us droll commentary in peculiarly precise English: "Some of the topics covered tonight are harmless, & others are about interpersonal relationships."
The fun of the show is the distance between Raabe's aloofness & the music's human content. The audience bounces in their seats during the Cuban Rumba, but Herr Raabe is so efficient that he is practically motionless. When not singing, he steps away from the microphone & leans against the piano. It is even unnecessary for him to cue the terrific, 12-person Palast Orchestra. I love this band. Their ensemble is tight, & yet the members never lose their individuality. As the show progresses, they reveal unsuspected talents. It's startling to see the trombone player put down his instrument & pick up a violin. For "Who's Afraid of the Big Bad Wolf?" 3 musicians step forward to portray the 3 pigs, singing & playing their instruments. The show is so perfectly choreographed that when Herr Raabe suddenly stopped one of the numbers because he forgot to translate the song for us, I couldn't be sure if that wasn't actually planned.
The audience was full of people who were already Max Raabe fans. They were so enthusiastic that the
San Francisco
encore turned into a sing-a-along. A large number of people arrived in period dress, including John Marcher, who only needed a violin case to complete the illusion. Standing in the bar during intermission, I felt like I was in
The Untouchables
. After the show, our group went to a packed restaurant around the block, where we saw Herr Raabe sitting at the bar, looking boyish, & doing one thing he never did on stage: smiling.
§ Berlin Nocturne
Max Raabe & Palast Orchester
Saturday, April 9, 8pm
Paramount Theatre, Oakland