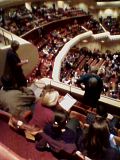 On Thursday night I was in a full house at Davies Hall to hear the
San Francisco Gay Men's Chorus
. An interactive slide show ("Clap if you arrived on public transportation.") warmed up the crowd & led a count-down to the start of the show, though a miscue backstage brought the chorus out several minutes too soon. Half the chorus entered down the aisles, & in the 1st number,
Everyone Sang
, there was a nice call and response between the stage & the auditorium. It was impressive just to see 250 men in tuxedos on the stage at once. The generally serious program included a setting of an Obama speech, a dramatic work by Jake Heggie based on a holocaust memoir, & a set of inspirational songs on vaguely Christian texts. On the lighter side we got a 3 tenors parody, a
Wizard of Oz
number, & a slickly-produced
music video
.
The chorus sang the challenging two-and-a-half hour program from memory. They produced a uniform sound that was warm & unforced. My first reaction was that they sounded bottom-heavy, but I think I am just not used to hearing baritones sing the melody. The chorus's pianissimo at the end of Gwyneth Walker's
Tree of Peace
was beautiful. This is their first concert with their new conductor
Timothy Seelig
, & he definitely has their attention. His first word to the audience was a humorously blasé "hey." Mr. Seelig comes across as an eager showman & self-promoter.
The inclusion of the
Mission High School Chorus
& a band from the
SF Conservatory of Music
emphasized the event's community feel & probably diversified the audience. Sign language interpreter
Ethan Pope
signed so creatively that the video focused on him during
No Words
to capture his funny, finger-wagging gestures. He was one of my favorite parts of the show. I was lucky enough to be introduced to him in front of Davies Hall afterward, & I learned that there are regional accents in ASL. Mr. Pope totally makes me want to learn to sign.
§ San Francisco Gay Men's Chorus

Words!
Dr. Timothy Seelig, Conductor
Carl Pantle, Principal Accompanist
Lynden Bair, Associate Accompanist
Benjamin Bachmann, Guest Organist
San Francisco Conservatory Chamber Orchestra
Special Guests: Mission High School Chorus, Steven Hankle, Conductor

ACT 1
Everyone Sang
Eric Helmuth. Words: Siegfried Sassoon

Shake the Rafters
Jon Bailey. Words: Bill Bowersock

In the Space of Now
Kevin Robison. Words: Eckhart Tolle

An Exhortation
David Conte. Words: President Barack Obama

No Words
Rob Landes. Words: Rob Landes. Vocal Minority

A Hundred Thousand Stars
Jake Heggie. Words: Gene Scheer. From

For a Look or a Touch



Sure on This Shining Night
Morten Lauridsen. Words: James Agee

We are the Stars
James Granville Eakin, III. Words: Algonquin — Native American. From

Stargazing



Musical Risotto
Jonathan Willcocks. Words: Traditional

ACT 2
Tale of Two Cities
Carol Hall. Words: Carol Hall. From

Best Little Whorehouse in Texas



Our Time
Stephen Sondheim. Words: Stephen Sondheim. From

Merrily We Roll Along



Tree of Peace
Gwyneth Walker. Words: John Greenleaf Whittier

The Wizard of Oz
Harold Arlen. Words: L. Frank Baum and Noel Langley. The Lollipop Guild

WORDS FROM OUR LIVES
Always With love
Music by Robert Seeley. Words by Robert Espindola. From

Songs of My Family



In My Dreams
Music by Robert Seeley. Words by Robert Espindola. From

Metamorphosis



We are the Bully Boyz
Music by Robert Seeley. Words by Robert Espindola. From

To a Dancing Star



Further Along
Music by Robert Seeley. Words by Robert Espindola. From

Exile



Angels
Music by Robert Seeley. Words by Robert Espindola. From

Brave Souls and Dreamers



The Awakening
Joseph M. Martin. Words: Joseph M. Martin

Thursday, April 21, 2011 8 PM
Louise M. Davies Symphony Hall