Emma McNairy as Poppea
Photo Credit: Jamie Buschbaum
Tuesday night I got to attend the final dress rehearsal of
L'incoronazione di Poppea
, being presented by
West Edge Opera
this weekend. The production is streamlined in all directions. Many scenes & characters are completely cut, & director
Mark Streshinsky
does a good job moving through the plot. The minimal staging locates the action in the Kennedy years of the 1960s. Just a couch & a large curtained bed are on stage. Video projections play continuously on the set, but after a while they turned into wallpaper for me, & I stopped paying attention to them. All the supernatural characters are gone, so this is a world without divine intervention. The rehearsal ran under 2 1/2 hours, including one intermission, which occurs after the death of Seneca.
The fine cast are all expressive & idiomatic singers. Soprano
Emma McNairy
has a warm, bright voice & is a guileless & almost child-like Poppea. Soprano
Christine Brandes
has a compressed, solid sound, & her Nero is a spoiled teenager in a suit. As Ottone, countertenor
Ryan Belongie
sings in a pleasing, unstrained voice. He has many interesting costume changes, including preppy outfits, a dress, & nothing but a towel around his waist. Tenor
Brian Thorsett
is terrifically fun in the drag role of Arnalta, & his high, ringing voice is gorgeous. It is a crime that Arnalta's final monologue is cut from this production. Mezzo
Erin Neff
, as a tense Ottavia, was focussed in her singing & acting. Bass
Paul Thompson
sounded appropriately sepulchral as the ancient Seneca, wheelchair-bound & requiring an oxygen tank. I liked his easy access to the role's low D. Soprano
Tonia D'Amelio
was a perky Drusilla, & I enjoyed her gleeful singing in an aria expressing how happy she is that Poppea is about get to bumped off by Ottone.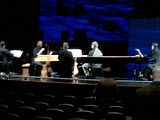 From the pit, conductor
Gilbert Martinez
played the harpsichord & led a small continuo of plucked instruments: harpsichord, theorbo, harp & lute. 2 violins & a gamba occasionally joined in the ritornellos, but the realization is dry & lacks variety for those moments when the music blooms into arias. Instead of the prologue for Fortune, Virtue & Love, this production opens with the love duet for Poppea & Nero from the end of the opera's Naples version. Ottone & Drusilla end up singing some of the love duet belonging to Damigella & Valletto, characters missing here.
More rehearsal photos on
facebook
.

§ L'incoronazione di Poppea
Claudio Monteverdi

West Edge Opera
Final Dress Rehearsal, January 29, 2013, 7:30p

Nerone – Christine Brandes
Poppea – Emma McNairy
Ottavia – Erin Neff
Drucilla – Tonia D'Amelio
Ottone – Ryan Belongie
Arnalta – Brian Thorsett
Seneca – Paul Thompson
Secret Service #1 – Tim Gahan
Secret Service #2 – Roy Landaverde

Conductor – Gilbert Martinez
Stage Director – Mark Streshinsky

Harpsichord: JungHae Kim
Theorbo: Daniel Zuluaga
Triple Harp: Cheryl Ann Fulton
Viola da Gamba: Josh Lee
Violin: David Sego and Amy Haltom

Fri, Feb 1, 8:00 p.m.
Sat, Feb 2, 8:00 p.m.
Sun, Feb 3, 3:00 p.m.
Performing Arts Theater at El Cerrito High School