Wednesday night I heard guitarist
Jon Mendle
in the clubby
Salon at the Rex
. He played an hour-long program that included Baroque suites, arrangements of popular pieces by Debussy & Ravel, & a world premiere. The young Mr. Mendle is a graduate of the
SF Conservatory of Music
, & his resume includes a tour with Yo-Yo Ma's
Silk Road Ensemble
. He played an 11-string Archguitar, an unusual instrument that looks like a Baroque guitar with way too many strings. It sounded soft but resonant. Mr. Mendle has a relaxed manner & was very comfortable speaking with the audience between pieces. He seems to have a strong fingering hand.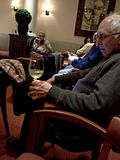 Mr. Mendle acknowledged
Alan Perlman
, the builder of his guitar, who was in attendance. Mr. Mendle also pointed out composer
Garry Eister
in the audience, immediately after premiering his
Moto Perpetuo
.The piece was written expressly for Mr. Mendle's instrument & sounded flowing rather than rapid. Instead of maintaining a running pace, the music curiously unwinds at the end. Mr. Mendle clearly pleased the salon audience, who listened so quietly that you could hear when someone turned over a program or put down a glass. Some gave him a standing ovation. In the Q&A, there were many questions about his guitar.
§ Jon Mendle, guitar
Salon at the Rex

Claude Debussy (1862-1918)
La fille aux cheveux de lin

S. L. Weiss (1687-1750)
Selections from Sonata XXIII, L'infidele
Entree
Sarabande
Menuet

Adam Falckenhagen (1697-1754)
Sonata IV, Op 1 (1740)
Largo
Allegro Un Poco
A Tempo Giusto

Maurice Ravel (1875-1937)
Pavane pour une infante défunte

Garry Eister (b. 1952)
Moto Perpetuo (2012) (World premiere)

Johann Kaspar Mertz (1806-1856)
Fantasie Hongroise

Wednesday, January 23, 6:30pm
Hotel Rex