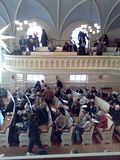 Sunday afternoon I heard the
American Bach Soloists
give a pristine performance of
Bach's St. John Passion
. There was a chorus of 16 & an orchestra of the same size. Tenor
Aaron Sheehan
was a tireless & consistent Evangelist. He has a clear, high voice, & his singing was nicely connected. Baritone
William Sharp
was a noble Jesus. His voice is full & unforced & fits the music comfortably. He was also assigned the aria
Mein teuer Heiland
, which he sang in a calming manner. Countertenor
Brennan Hall
makes a clean & steady sound. He was sustained in
Es ist vollbrach
t, which was accompanied by a lugubrious viola da gamba obbligato played by
Elisabeth Reed
. Tenor
Derek Chester
has an attractive, lyrical voice, & he worked hard to make his arias sound smooth. Baritone
Joshua Copeland
was solid & grounded in the bass arias & the part of Pilate. Soprano
Clara Rottsolk
had big, projecting high notes that made my concert companion wonder if she had wandered in from a Wagner opera. Her
Zerfließe, mein Herze
had a lot of strength. Except for the Evangelist & Jesus, the soloists also sang in the choruses. I did not see why the soloists were positioned behind the orchestra.
The concert felt scrupulously well-prepared. The choruses were clean & tidy, with occasional fussy details of articulation. Conductor
Jeffrey Thomas
led with square, even tempos that were not too fast or too slow. The orchestra played neatly. The performance was based on the 1725 version of the Passion, containing alternate versions of 5 numbers. A duet in which the soprano sings a chorale over the bass's running melody was striking. I was sorry not to have the churning opening chorus from the standard version, though. The serious-minded ABS audience was impressively quiet throughout & applauded the soloists appreciatively, especially Mr. Sheehan.
§ Bach's St. John Passion
American Bach Soloists
Jeffrey Thomas, conductor

Aaron Sheehan, tenor (Evangelista)
William Sharp, baritone (Christus)
Clara Rottsolk, soprano
Brennan Hall, countertenor
Derek Chester, tenor
Joshua Copeland, baritone
American Bach Choir

Sunday, January 27 2013, 4:00 pm
St. Mark's Lutheran Church