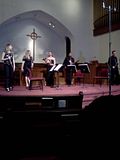 Saturday night I heard wind quintet
Valinor Winds
perform in a small
church venue
in the Inner Sunset. The agreeable program began with a short, charming piece by Nino Rota, followed by Anton Reicha's Wind Quintet in E-flat Major, in what clarinetist
Brenden Guy
described as "the 15 minute version." The musicians all stood to perform Berio's
Opus Number Zoo
, which requires them to declaim the text of 4 child-like poems by Rhoda Levine, as well as play. Though the subject matter is conflict & war, the piece comes across as cute.
After intermission we heard a genial version of Grieg's
Wedding Day at Troldhaugen
, arranged by Mr. Guy. The program ended with Barber's
Summer Music
, & I enjoyed hearing this florid & often sultry music.
The musicians took turns speaking to the audience between pieces. Mr. Guy explained that Valinor Winds was originally a student ensemble at the SF Conservatory of Music & that this was their first time presenting their own full-length concert. There is something very polite about the way quintet's members all listen to each other & maintain a good ensemble, no one instrument ever dominating. Their overall sound is smooth & pleasing. The event had an easy-going atmosphere. A reception with drinks and snacks immediately followed.
§ Wind-ter Wonderland
Valinor Winds
Sasha Launer, flute
Jessica Huntsman, oboe
Brenden Guy, clarinet
Alexis Luque, bassoon
Caitlyn Smith, horn

Nino Rota: Petite Offrande Musicale
Anton Reicha: Wind Quintet in Eb Major, Op.88 no.2
Luciano Berio: Opus Number Zoo
Edvard Grieg: Wedding Day at Troldhaugen, arr. Brenden Guy
Samuel Barber: Summer Music

7th Avenue Performances
7th Avenue Presbyterian Church
Saturday, January 19, 2013, 7:30pm