Saturday night I heard violinist
Tessa Lark
, winner of the 2012
Naumburg Competition
, in a recital presented for free to
San Francisco Performances
subscribers. Ms. Lark started with a Bach-like solo sonata by Ysaÿe, which she played from memory. Her sound is comfy, & she makes playing the violin seem like the most natural thing in the world. I like the warm tone she maintains even high up on the G or E strings. She has a solid up-bow. The running notes of the last movement of the Ysaÿe were incredibly short, rapid & even.
In the monumental Bartok Sonata No. 1, Ms. Lark's clean execution was well-matched by pianist
Renata Gutman
's limpid playing. I liked the piano's precise galumphing in the final movement, & the pair did a good job communicating the movement's folk song quality. Explaining that this last movement of the Bartok reminded her of the music of her home state of Kentucky, Ms. Lark then gave us a sample, tossing off a sprinting Bluegrass fiddle piece with ease.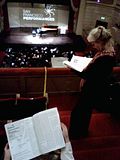 The program's pleasant 2nd half consisted of a sonata by Mendelssohn, Debussy's
Clair de Lune
, a virtuoso showpiece by Wienawski, which Ms. Lark made look way too easy, & the song
Estrellita
by Ponce. She told us that
Estrallita
is one of her favorite pieces & that Heifetz's version was one of the things that made her want to play the violin. The audience was quiet & attentive, though they unaccountably applauded after the 1st movements of both the Ysaÿe & the Mendelssohn. Ms. Lark received a standing ovation, & someone in the balcony repeatedly shouted "Brava!" Many of those seated around me seemed to be musicians.
§ Tessa Lark, violin
Renana Gutman, piano
Ysaÿe: Sonata No. 4 in E Minor, Opus 27
Bartók: Sonata No. 1, Sz 75
Mendelssohn: Sonata in F Major
Debussy (trans. Carembat): Clair de Lune
Wieniawski: Variations on an Original Theme, Opus 15
Encores
Traditional: Bowing the Strings
Ponce (arr. Heifetz): Estrellita
Saturday, January 12, 8pm
Herbst Theatre
San Francisco Performances