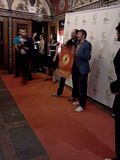 There was a large turn-out for
closing night
of the
Berlin & Beyond Film Festival
, featuring
This Ain't California
. The film started half an hour late, after a delay & then introductions from Festival President
Sabine Erlenwein
& Festival Director
Sophoan Sorn
, who asked the audience to applaud for each of the sponsors & individuals they thanked this evening. We also learned the winners of the festival's audience poll: The documentary
The Substance
& the feature film
Combat Girls (Kriegerin)
.
This Ain't California
is a happy remembrance of the skateboard scene in East Germany in the 1980s. It looks like a documentary & cuts rapidly between shaky home movies, photos, animations & archival video. It's told from the viewpoint of a pod of skateboarders who were part of the street scene in the Alexanderplatz in East Berlin. For them this is simply the fun, carefree time of their youth. The fragmentary narrative circles around the character of Denis ("Panik"), leader of the pack & a classic troubled kid. In an unexplored twist, he ends up as a soldier of the Bundeswehr & dies in Afghanistan in 2011.
Director
Marten Persiel
and Producer
Ronald Vietz
were present. The audience sang happy birthday to Mr. Persiel as a cake with lit candles was brought to him on stage after the screening. During the Q&A, someone recommended a place in San Francisco for Mr. Vietz to skateboard. Mr. Persiel & Mr. Veitz complimented the audience for laughing at all the right times during the film.
§ This Ain't California
Germany (2012), 90 min. (digital projection)
Director: Marten Persiel

Berlin & Beyond Film Festival 2012
Thursday, October 4 at 7:30 pm
Castro Theatre